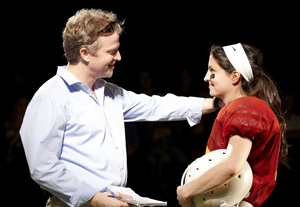 "That's right. Everything goes back to football," yells retired quarterback Mike Slattery during a quarrel with his two teenage children. He's saying it sarcastically, but the truth is that everything does go back to the sport in "All-American," Julia Brownell's touchdown of a play, presented by Lincoln Center Theater's LCT3 new-works series at the Duke on 42nd Street and directed with a perfect playbook by Evan Cabnet.
Mike's world revolves around the pigskin, even in retirement. He pressures his daughter, Katie, a talented footballer herself, to excel on the field and pursue the near-impossible goal of becoming the first female player in the NFL. After the family moves just so she can play with a top-ranked high school team, she soon wants to quit because all of the fun has gone out of the game. Meanwhile, Mike virtually ignores Katie's nonathletic twin brother, Aaron, who is smart and musically inclined but cuts classes, smokes, and feels like an outsider in his own home. Beth, the wife and mother, is finding fulfillment in her real-estate job, but Mike is pushing her to have another child for him to train for gridiron glory.
It sounds as if the play is all about Mike and his domination of the family, but Brownell, a writer for the HBO series "Hung," carefully presents each member of the Slattery clan in full color, creating a complex and rich portrait of parents and children in crisis. No one is the villain or hero, and Brownell avoids easy answers and tidy resolutions. Most playwrights would use events like the threat of a divorce or a potentially catastrophic sports injury to either unite or irreparably damage the family unit. But after each of these occurs, Brownell leaves the situation with plenty of loose ends, as often happens in real life.
In another unconventional gambit, the author doesn't make Katie the main character, which could have resulted in the play being a feminist statement. Instead, she uses Aaron as the focal point, turning the work into an unexpected study of what it's like to live among the shadows in a family of stars.
As the play's figurative if not literal quarterback, young actor Harry Zittel snaps the dramatic ball with grace and strength. Aaron could easily have been played as a whiny spoiled brat, but Zittel finds the character's sensitive, loving side, which Aaron covers up with smart-ass quips and an affected apathy. Meredith Forlenza seizes on Katie's conflict between wanting to please her dad and to have a "normal" girlhood and runs with it. C.J. Wilson captures Mike's golden-boy charm as well as his selfishness without turning him into a jock stereotype. Rebecca Creskoff's Beth is a totally believable and sympathetic former cheerleader who has grown older and is trying hard to grow up. Sarah Steele lends reams of subtext to a lonely girl who is attracted to Aaron, and Brock Harris has an effective scene as one of Katie's teammates.
Cabnet balances the play's comic and serious elements and fluidly stages it on Lee Savage's football stadium set, which echoes Brownell's theme of a family being totally enveloped by a game that gives them both joy and anxiety.
Presented by Lincoln Center Theater/LCT3 at the Duke on 42nd Street, 229 W. 42nd St., NYC. Nov. 7–19. Mon.–Sat., 8 p.m.; Wed. and Sat., 2 p.m. (646) 223-3010 or www.lct.org. Casting by Daniel Swee.