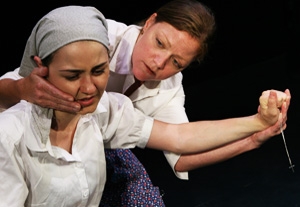 Good intentions don't make up for dull drama. Playwright Shirley Lauro's well-meant "All Through the Night" dramatizes the lives of German gentiles during the Third Reich, showing how decent young girls are trapped by a perverse system. In its mission to "provoke social awareness and change," the Red Fern Theatre Company always partners with a philanthropy for its productions, and here it's the Simon Wiesenthal Center, a Jewish human rights organization dedicated to preserving the memory of the Holocaust. 
But the play is confusing and messy. Sluggish direction by artistic director Melanie Moyer Williams does not help. To give equal weight to the diverging paths of three girls, Lauro adds a narrator, country girl Ludmilla (Lesley McBurney), who bounces around the stage with the cheer of a German beer advertisement, all Teutonic winks and jovial "I betcha, I betcha." The conceit is that Ludmilla is telling us a fairy tale in which all the girls lived happily ever after once the bad man was gone—but eventually we learn that there is no such thing as happily ever after. 
Gretchen (Theo Allyn), who is obedient to her teachers, becomes a Nazi guard and is exploited by a lesbian supervisor (all the teachers and Fraus are played by Andrea Sooch). Religious, nurturing Angelika (Hana Kalinski) becomes a nurse, but she has her own toddler taken for experiments. Wealthy aristocrat Friederike (Michelle Lookadoo) is disowned by her family for her affair with a Gypsy. 
Some of the incidents fascinate—particularly the story of Angelika's child—but none are developed in depth. An episode involving the bombing of Dresden is particularly heavy-handed. The actors try hard, and Lookadoo does particularly well with her elegant, moral young woman, but long before "The end" you'll wish for the "ever after."       
Presented by the Red Fern Theatre Company at the Marjorie S. Deane Little Theater, 5 W. 63rd St., NYC. Oct. 2–25. Wed.–Sat., 8 p.m.; Sun., 3 p.m. (212) 352-3101 or www.ovationtix.com.