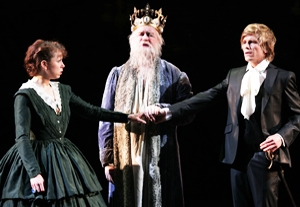 "All's Well That Ends Well," the second offering of the National Theatre's debut season of live broadcasts to movie screens worldwide offers an example of why the National is one of England's greatest treasures and why it could become, thanks to this series, one of the whole globe's. You could not find two more different productions, yet each is staged with equal attention to detail and commitment to exploring the text. The first production was a hot, sexy take on Racine's "Phedre" starring Oscar winner Helen Mirren in lust with studly young Dominic Cooper. It was 90 intense minutes on a single spare set on the National's intimate Lyttleton space. "All's Well" is a three-hour obscure Shakespeare romance on the vast Olivier stage.
Director Marianne Elliott sees the Bard's complicated tale of thwarted love and renewed hope as a fairy tale. Rae Smith's sets and costumes evoke mythical worlds of haunted woods and scary castles. Projections and puppet make the stage into an elaborate pop-up book. Using this concept, Elliott manages to make sense of Shakespeare's convoluted plot. Orphaned Helena (a steely-spined Michelle Terry) is in love with the feckless Bertram (George Rainsford). Employing the skills of her late father, a renowned physician, she cures the ailing King of France (a majestic Oliver Ford Davies) and wins the right to marry the higher-born Bertram. When her new disdainful husband abandons her to go to war in Italy, she follows and through pluck, guile, and luck, wins him back.  
Throw in sparkling comic relief from Conleth Hill as Bertram's boastful companion,and blazing dramatic fire from Clare Higgins as the Countess, Bertram's mother, and all's well with this majestic production.   
This screening may not have the star power and sex of  "Phedre" but is well worth your time. Lucky London gets these gems at a reasonable price all the time. We must settle for the occasional transatlantic transfer—and now the odd screening.          
 
 
Presented by NT Live.Remaining performance in the New York City area: Fri., Oct. 9, Skirball Center for the Performing Arts, 566 LaGuardia Place, NYC. Remaining performances in California: Tue., Oct. 13, Rialto Cinema, Berkeley; Thu., Oct. 15 and Sat., Oct. 17, Sundance Kabuki, San Francisco; Wed., Oct. 28 and Thu., Oct. 29, Gaslight Stadium 15, San Diego. www.nationaltheatre.org.uk.