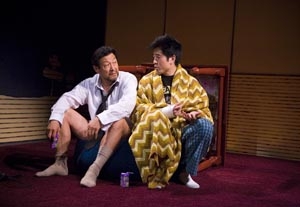 When Min Suk Chun's American dream fell through, he left his family in suburban Texas to put his life back together in his native Korea. After 15 years of intermittent communication, he rejoins them to celebrate his hwangap—his 60th birthday and the completion of the zodiac cycle. But both he and his family are unsure how he can be a part of their lives again.
Lloyd Suh's
American Hwangap
offers a sensitive, thought-provoking glimpse into family relationships and coming-of-age angst. The play is sharp, insightful, and neatly plotted. Suh skillfully breaks up the drama with witty and poetic reflections just beyond the scope of normal speech, and director Trip Cullman gets finely calibrated performances from the cast.
David (Hoon Lee), the oldest child, is a steely toned, exaggeratedly masculine investment banker. Throughout the play, his family pleads with him to join the celebration, but Suh avoids the obvious endings, with David neither revealing himself to be just like his father nor joining the smiling family portrait. Daughter Esther (Michi Barall) is twice divorced and studying for her fifth degree; like her father, she's still trying to find her way. Ralph (Peter Kim), 29, has reverted to childhood, living in his mother's basement, writing science-fiction poetry, and climbing trees. He flits from slobbering puppy-dog eagerness to misdirected rage. Min Suk's wife, Mary (Mia Katigbak), has reinvented herself as head of the household, but her will sometimes appears disconcertingly flexible.
For all the turmoil Min Suk (James Saito) creates for his family, more compelling is the turmoil within him. He is at once a baby new to the world, a young man consumed by love, and a broken old man reflecting on the end of his life.
Presented by Ma-Yi Theater Company and the Play Companyat the Wild Project, 395 E. Third St
.,
NYC
.
May 17
–
June 7. Tue
.–
Sat
.,
8 p.m
.;
Sat
.,
3 p.m
.;
Sun
.,
4 p.m
.
(
212
)
352-3101 or www.theatermania.com