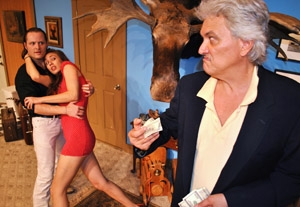 For those who feel that now would be a good day for a messiah to arrive and save humanity from itself, playwright Derek Ahonen offers both a savior and a diagnosis of the illness to be cured. The former is housed in the body of Barry Ricewater, oldest son of a wealthy family of New York car salesmen, who is dying of cancer and convinced that he's fast-tracking his return to the heavenly kingdom. The latter is represented in microcosm by his family, which is coming apart through bitter divorces, crippling addictions, a repressed history of abuse, and bitter lawsuits against their own corporate greed. They make up a familiar breed of soulless and materialistic sinners, denying with their last ounce of strength their responsibility for their fellow man.
Under Ahonen's direction, the characters run like overexcited animals around designer Al Schatz's re-creation of Barry's childhood home, a tacky delight with bright blue walls, porcelain children's toys, and an imposing moose head. They yell, hurl racial epithets, panic, and pontificate as though breathing would kill them. James Kautz, as the family lawyer, and Jennifer Fouche, as a visitor from the Midwest with a telepathic connection to Barry, are oases of stolidity and craft, but the rest of the cast work in such broad strokes that their characters are entirely unlikable. This is even true of Aysha Quinn, who, as Barry's pot-smoking hippie wife, should balance the Ricewaters' mania but instead vanishes into the scenery.
Barry is the fix-it kind of messiah, promising to heal a "disoriented species" with "necessary adjustments through divine intervention." His first acts upon his resurrection are retributive and, for many of the characters, awe-inspiring. But taking a deep breath and trusting in external forces is hardly a prescription for moral decay. Ahonen's critique is vague—are we failing to appreciate the world around us or failing to take responsibility for it?—and belies an all-too-American faith that a deus ex machina will clean up the mess he's made.
Presented by the Amoralists at Theatre 80 St. Marks, 80 St. Mark's Place, NYC. June 5–28. Mon., Thu.–Sat., 8 p.m.; Sun., 3 p.m. (212) 388-0388 or www.theatre80.net. Additional casting by Cindi Rush Casting.