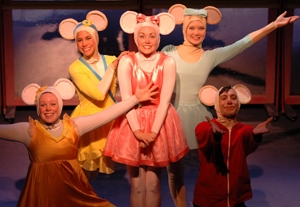 A winsome 50-minute show, ideally suited to the 6-and-under crowd, "Angelina Ballerina: The Musical" is based on the beloved children's books and animated PBS series about the spunky little mouse who yearns to be a prima ballerina. Especially appealing to youngsters with an interest in dancing, the musical, with book and lyrics by Susan DiLallo and music by Ben Morss, is driven by a toe-tapping score and a simple plot.
The story revolves around Angelina's efforts to find a style of dance she can perform in her school's recital, having arrived too late for a spot in the ballet number. Though the uncomplicated tale may prove less than riveting to adults, the script contains lots of clever cheese references—all the characters are mice—that will amuse the moms and dads in the audience. For example, at their dance school, the Camembert Academy, Angelina and her friends have learned about such ballet stars as Margot Fontina and Mikhail Brie-Shnikov. 
Adding a beguiling visual impact are the adorable mouse costumes designed by Elisabeth Vastola and Kyle Dixon's cunningly decorated sets. (You'll want to look carefully at the poster of famous ballerina Serena Silvertail hanging on Angelina's bedroom wall.)
Directed and choreographed by Sam Viverito, the production moves along at a lively pace and features an abundance of dance. Yet while the show admirably incorporates and attempts to educate youngsters about a diversity of dance forms—from tap, ballet, hip-hop, and Irish step dancing to flamenco, salsa, and the limbo—the choreography is drawn in broad strokes and often fails to capture the movement details that define the different styles. Yet Viverito may have made a smart choice in this regard. Because the dancing looks easy enough that kids in the audience can readily imagine themselves doing it, it buttresses the show's main theme: that it's okay to simply get up and dance in whatever manner you like.
The uplifting musical is performed by a sparkling cast of young triple-threats, and if the audience at the performance I attended is any indication, it thoroughly captivates its young viewers. No small feat, indeed.


Presented by Vital Theatre Company and HIT Entertainment  at the Vital Theatre, 2162 Broadway, NYC.Oct. 9–Jan. 2. Fri., 4:30 p.m.; Sat. and Sun., 11 a.m. and 1 p.m. (212) 579-0528 or www.angelinathemusical.com.