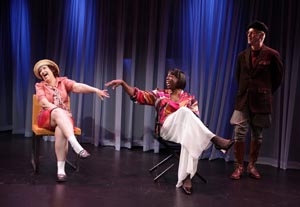 George O. Brome has a potentially interesting topic in his play "…Another Man's Poison." His central character, Frankie Masters, is an African-American comedian not unlike Flip Wilson, whose hit 1970s TV variety hour was one of the first to star a black funnyman. Wilson's most popular character was Geraldine, a sassy street gal played by the comic in drag. Marshall has a similar creation called Wilhelmena, who even paraphrases Geraldine's signature line, "What you see is what you get." Frankie claims Wilhelmena can make cracks about white society that would never be accepted coming from a male. The fact that a black man must put on a dress in order to speak truth to power is an intriguing theme.
It also opens the door to deeper examinations of race, class, gender, and sexuality. Unfortunately, Brome has settled for a soap-operatic plot—the clown onstage is an egomaniacal monster offstage, his family suffers from his constant absence, his son is secretly gay, etc., etc. In addition, Frankie and the other characters—his wife, son, white manager, and two cast members on his TV show—speak to each other in editorials rather than believable dialogue. The conflicts feel manufactured, and their resolutions occur as if by magic: Frankie and his spouse, Pauline, appear to be on the verge of a divorce in one scene and are suddenly reconciled and passionate in the next.
After three long acts, there is finally a spark of credible drama when tragedy hits the family just as Frankie is achieving his greatest success. Penelope Lowder as Pauline gives free rein to her sorrow and subsequent depression without going over the top. Then Leland Gantt as Frankie subtly delivers a fascinating monologue as he dons his Wilhelmena drag and makeup, explaining that this satiric soul sister is more than just a punch line. It's an intriguing ending to an otherwise unsatisfying evening.
Director Passion Hansome blunts the ending's impact by inserting the curtain calls for everyone except Gantt before his climactic speech. It's an odd choice, and the only logical reason for it would be to give Gantt time to change costume from the previous scene. Hansome does an otherwise creditable job with staging the moments depicting the comedian's dysfunctional home life and his wacky TV sketches. But the transitions are slow and clumsily handled, like too much of Brome's script.
Presented by Orielle Creative Productions and Broliver Productionsat the Peter Jay Sharp Theater, 416 W. 42nd St
.,
NYC
.
Aug. 12
–
23. Wed
.–
Sun
.,
7 p.m
.;
Wed
.,
Sat
.,
and Sun
.,
2 p.m
.(
212
)
279-4200 or www.ticketcentral.com
.