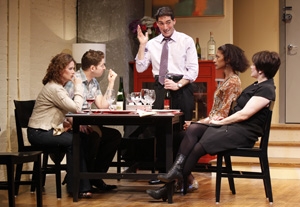 Playwright Kate Moira Ryan is known for her stage adaptations of lesbian novels and her collaborations with comedian Judy Gold. "Bass for Picasso," which takes its title from a dish Alice B. Toklas once prepared for the legendary painter, is apparently Ryan's first original comedy written solo. Unfortunately, in this screwball play set at the dinner party from hell, the standup shows through. "Bass for Picasso" is as half-baked as its host's failed first attempt at cooking Toklas' dish.
Ryan assembles a group of eccentric gay friends at her table. Domineering host Francesca has had a leg amputated and is head food writer for The New York Times. Her longtime lover, the vague Pilar, is an art detective who speaks a dizzying array of languages and has done time at Guantanamo for immigration issues. The three guests are Joe, a sniping obstetrician and gynecologist dealing with his boyfriend Bob's crystal meth addiction; Bricka, a widow trying to keep custody of her 5-year old son out of the hands of his famous Republican grandparents; and Kev, a slumping alcoholic playwright who's secretly ripped off the lives of those assembled for his next play, which is about to be produced at Playwrights Horizons. Oh, and off stage are Pilar and Francesca's two young boys, who are obsessed with S&M accoutrements and Robert Mapplethorpe.
Running jokes abound: drug-addled Bob keeps calling for directions to the party from all over the city, Pilar can't figure out how to answer the phone, those offstage kids keep misbehaving. But the gags neither pay off nor accrete, giving the play a feeling of randomness. The clashing agendas of the characters also feel gerrymandered, and the extremely broad writing interferes with simple believability. Even screwball comedy must be rooted in truth. Ryan's continual ratcheting up of the outlandishness only results in a rising sense of desperation.
Director Ike Shambelan keeps the pace popping but can't disguise all the artificiality. Except for Nicholas Viselli's strident Joe, the actors wisely play against the absurdity. Best are Mary Theresa Archbold's wry Bricka and Felice Neals' wide-eyed, loopy Pilar. Anita Hollander has authority as Francesca and gets a good laugh whacking the unfaithful Pilar with her prosthesis, while Terry Small falls off the wagon with welcome understatement as the nervous Kev.
The program includes an insert with Toklas' recipe, which includes timings, alerting us to the fact that Francesca could not possibly cook her bass in the time Ryan allots her. With dramaturgy like that, "Bass for Picasso" ends up just as fishy as its main course. 
Presented by Theater Breaking Through Barriers at the Kirk Theatre, 410 W. 42nd St., NYC. May 2–23. Wed. and Thu., 7 p.m.; Fri. and Sat., 8 p.m.; Sat. and Sun., 3 p.m. (212) 279-4200 or www.ticketcentral.com.