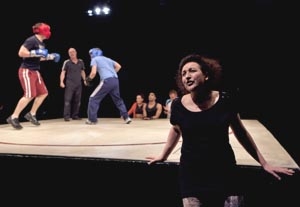 The thunderous songs by Underworld that rock St. Ann's Warehouse as theatergoers enter the house for Bryony Lavery's "Beautiful Burnout" set the heart racing. And though the show, beautifully directed and choreographed by Scott Graham and Steven Hoggett, often impresses with its portrait of life in a Scottish boxing gym, it never delivers the visceral thrill—and even the drama—of the pre-show music.
It's not that the piece doesn't have high-octane moments as five young people practice, under the guidance of their demanding trainer Bobby Burgess (Ewan Stewart), in the hope of finding fame through their pugilistic endeavors. Each time the performers crisply executed Graham and Hoggett's marvelously conceived routines, which combine the athleticism of calisthenics and punching drills with the grace and delicacy of dance, I did feel a bit of a rush.
Equally, the show's design elements dazzle, from the surprises that come from the seemingly ordinary raised boxing-ring platform, designed by Laura Hopkins, where most of the action unfolds, to Andy Purves' trippy multicolored lighting and the directors' use of a bank of screens, filled elegantly by video designer Ian William Galloway. There are moments when performance and projection combine to take the characters from the grimy, sweat-filled gym to an ethereal, out-of-body plain.
The chief problem with the episodic play is Lavery's generic script and characters. The young male boxers, though differentiated by temperament and dynamically rendered by Ryan Fletcher, Eddie Kay, Taqi Nazeeer, and Henry Pettigrew, are all essentially interchangeable, and we never learn what has drawn them to the sport or the gym.
The lone female boxer (Vicki Manderson) is given some backstory: She's fighting because of her anger about her stepfather's sexual advances. But neither this snippet of information nor the way in which Burgess ultimately works to pare down his flock, pushing the best toward professional careers, creates any sort of dramatic punch.
Presented by and at St. Ann's Warehouse, 38 Water St., Brooklyn, N.Y. March 1–27. Tue.–Fri., 8 p.m.; Sat., 2 and 8 p.m.; Sun., 4 p.m. (212) 352-3101, (866) 811-4111, (718) 254-8779, www.theatermania.com, or www.stannswarehouse.org.