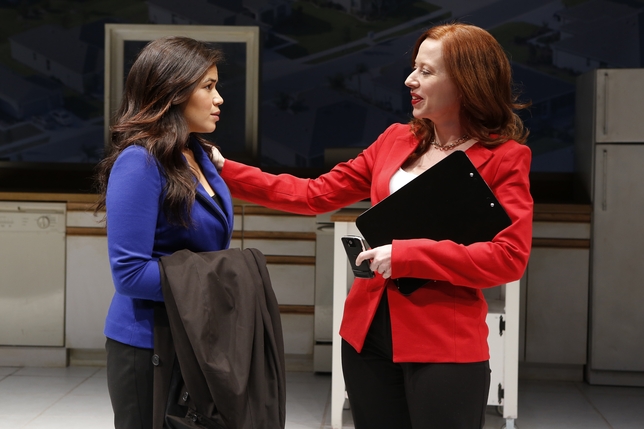 America Ferrera could sell anything—an American manufactured car, a somewhat unbelievable play, or even herself. In "Bethany," Laura Marks' social commentary of a drama turned dark comedy, Ferrera dominates the stage as Crystal, a young woman down on her luck who moves into a foreclosed home alongside a friendly though ominous squatter.
At first you must suspend your disbelief a little. Why would this well-dressed woman enter a house with a strange homeless man in it? So what if he's friendly? If she's in such a bind, can't she move into one of the other empty houses in the neighborhood? (Marks alludes to the other vacant homes, and the set's backdrop paints a cookie-cutter image of suburbia.) While that question never really goes away, once Crystal makes the decision to move in, the slow reveal of the conflict justifies her remaining there to a point of no return.
During the day Crystal works at a Saturn dealership that's on the brink of shutting down, and she must close all of her deals by the end of the week. Charlie, an older, slimy gentleman, takes a liking to Crystal, and she puts her entire being into selling him a car. Literally. However, Marks stretches the drama slightly too far, taking the social commentary to a dark and disturbing place. While the larger dramatic arc raises some issues, Marks peppers her script with details, such as Quiznos and Holiday Inn references, that help round out her understanding of the characters' situation.
Director Gaye Taylor Upchurch takes a no-frills approach to the drama, and Lauren Helpern's barebones set fits Upchurch's aesthetic. (The generic tile floors double well for the kitchen and the car dealership.) Upchurch rightly focuses on Crystal's story, though she never loses sight of the other characters' journeys as well, allowing her to draw interesting and captivating performances from her cast.
Emily Ackerman steals scenes generously as Shannon, Crystal's boss. Ken Marks fuses pathetic and creepy as Charlie, who can make your skin crawl. Myra Lucretia Taylor is so genuine as social worker Patricia that it's impossible to sense any notes of falsity. Kristin Griffith is excellent in a role that helps the play reach its resolution. Finally, Tobias Segal manages to make the disgusting Gary—the homeless hippie living in the abandoned house—into a compelling and sympathetic character.
The questions Marks poses intrigue, but "Bethany" is primarily worth seeing to witness Ferrera's impressive stage turn, which is hopefully a harbinger of many more to come.
Presented by Women's Project Theater at New York City Center Stage II, 131 W. 55th St., NYC. Jan. 20–Feb. 17. (212) 581-1212 or www.nycitycenter.org. Casting by Alaine Alldaffer and Lisa Donadio.
Critic's Score: B