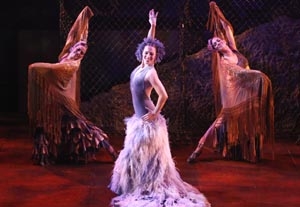 Flamenco purists, stay away! This is not the show for you. Co-created by its star and choreographer, Siudy, and Pablo Croce, the show's director, "Between Worlds" is a glitzy extravaganza driven by abundant unison foot-stomping routines danced by an ensemble of women in sexy Vegas-style attire (designed by Siudy and Siudy Quintero).
Though the women's footwork is flamenco-based and punctuated throughout by sharp arm moves rooted in flamenco stylings, the polished showiness and crystalline synchronicity of it all makes the production feel more like a Spanish-flavored "Riverdance" than a genuine flamenco experience. The show's artificial-looking dancing seems fueled by superficial passion, as even the ensemble's pained facial expressions are executed with uniformity. With the exception of a fiery solo that Siudy performs late in the second act, there is none of the raw, rough-edged, simmering intensity and bold individuality of expression that characterize true flamenco.
Glamour clearly trumps authenticity here, as the ensemble sports an array of costume changes featuring every form of ornamental bra imaginable, and Siudy is first seen wearing a white feathery getup that looks like a cross between a ballerina's Dying Swan tutu and one of Ginger Rogers' signature ball gowns.
Though Siudy is an alluring performer, and the ensemble's precision dancing is flawless, there is little else to recommend "Between Worlds." A sort of bowdlerized "Romeo and Juliet," it tells the tale of two drought-stricken warring clans: the flamenco dancers and an urban tribe of hip-hoppers who express themselves largely through ear-splitting synchronized drumming on metal cans. Siudy falls in love with an urban tribesman, but after some battles and betrayal, the rains come, no one dies, and the two tribes join together as one.
As drama, it's ridiculous. As dance, it's all spectacle. And as a musical event, it's, well, loud. With original music by Diego Franco, Ernesto Briceno, and Roberto Castillo (and additional music by Pepe Perez and DJ Leo Castillo), the production assaults us with brassy recorded flamenco arrangements and live hip-hop-influenced percussion work. Joaquin Gomez, however, offers haunting flamenco vocal solos that feel wonderfully real and provide a welcome relief from the rest of the commercialized clamor.
Presented by Pablo Croce Productions at New World Stages, 340 W. 50th St., NYC. March 20–May 22. Mon., Wed.–Fri., 8 p.m.; Sat., 4:30 and 8 p.m.; Sun., 3 p.m. (No performance Mon., March 21.) (212) 239-6200, (800) 432-7250, or www.telecharge.com.