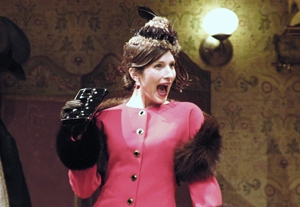 S.N. Behrman sits squarely in the tradition of early-20th-century playwrights such as Philip Barry, John van Druten, Robert E. Sherwood, and others who wrote civilized, literate drawing-room comedies. Such plays were vehicles for sophisticated leading ladies such as Katherine Cornell, Lynn Fontanne, and Ina Claire, the original star of "Biography." It's a genre we tend to think of as hopelessly dated. But after seeing this persuasive revival of what was probably Behrman's biggest success, audiences will likely find themselves rethinking that prejudice.
This 1932 comedy deals with the polarization of American politics and the hypocrisies of sexual morality, two issues still very much with us today. It all takes place in the Manhattan atelier of Marian Froude, a portrait painter famous for enticing international celebrities, from Communist leaders to American business titans, to sit for her. Originally from a small town in Tennessee, she has taken many lovers and remains famously independent and unmarried. When Richard Kurt, a radical left-wing newspaper editor, approaches her about writing her biography, to be serialized in his tabloid magazine Every Week, she's intrigued. But then her first love, Leander "Bunny" Nolan, a sensitive young Tennessee boy who has grown into a moralistic and greedy would-be U.S. senator, suddenly comes back into her life due to his impending marriage to a tycoon's daughter. Bunny, of course, tries to quash the book to protect his reputation, and Kurt fights back, making it increasingly difficult for Marian to practice her famous tolerance for all.
Behrman's writing is biting, trenchant, and gratifyingly subtle, and the company mostly delivers it with panache under the astute direction of Pamela Moller Kareman. Tracy Shayne shines as Marian, in complete command of the requisite style. She drives the play, skillfully negotiating its twists and turns, and is particularly adept at communicating the paradoxical reserve Marian must maintain while projecting an illusion of easy intimacy in order to sustain her tolerance. This Marian's independence most definitely comes at a price. As Kurt, George Kareman makes a fine foil, spitting his contempt for surface niceties and the powers that be, while making us quietly aware of its roots. Kevin Albert, alas, is miscast as Bunny. He seems younger than the character's 35 years, while Shayne is obviously somewhat older than that (which Shayne acknowledges at one point by making a joke out of Marian's matter-of-fact mention of her age). The discrepancy makes their relationship as contemporaries never entirely believable, and Bunny's swings between his present pomposity and wistful longing for the past never seem organic.
In supporting roles, Simon MacLean has a delightful cameo as a tippling matinee idol, Cheryl Orsini is very funny as a disapproving Teutonic maid, Tyne Firmin is suitably gemutlicht as an Austrian composer who is the brother of Marian's latest and late love, and Keith Barber is an engaging screwball as the health-nut tycoon. Nearly stealing the show is Sarah Bennett as Slade, Bunny's fiancée, who is every inch a modern woman of the period. Bennett is madly entertaining defying the expected behavior of someone dealing with the threat of a fiancé's ex-lover.
The especially handsome physical production—set by John Pollard, lighting by David Pentz, costumes by Kimberly Matela—lends verisimilitude and charm. But what really stands front and center is Behrman's play. Called "adult," "mature," "provocative," "intelligent," and "sinewy" by the New York critics at its premiere, it's still all of that more than 75 years later.
Presented by Mare Nostrum Elements and Theater 808 in association with the Schoolhouse Theater at Theater 3 at the Mint, 311 W. 43rd St., 3rd floor, NYC. Nov. 24–Dec. 19. Tue., Fri., and Sat., 7:30 p.m.; Wed., 2 p.m.; Sun., 3 p.m. (Additional performance Sat., Dec. 19, 2 p.m.) (212) 352-3101, (866) 811-4111, or www.theatermania.com.