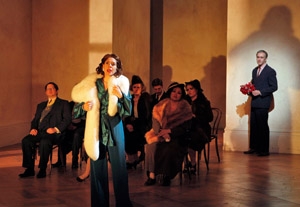 "Bitter Sweet," Noël Coward's first foray into operetta, was a megahit in the West End and on Broadway in 1929. But as that highly sentimental musical form was soon to be on the wane, never to regain broad public favor, the show has disappeared into the mists of time, despite two celluloid versions (a pretty faithful but primitive 1933 English film and a lush 1940 MGM vehicle for Jeanette McDonald and Nelson Eddy that changed the plot greatly and which Coward loathed).
My top hat is off to Bard College's SummerScape Festival for giving audiences the opportunity to acquaint themselves with the work and thus gain further insight into one of the 20th century's greatest talents. Unfortunately, director Michael Gieleta's attempts to make the show relevant to contemporary audiences are ill-conceived, working against Coward's themes and characters. Still, with Siân Phillips providing effortless authenticity and a talented cast of youngsters working hard to follow her lead, there is much to be enjoyed.
This longing look back at the romantic days of old Vienna begins with a prologue in 1929 England. Young aristocratic Dolly is affianced to the stuffy Lord Henry Jekyll but really loves her singing teacher, the penniless Vincent. When, at a house party, the elderly hostess, Lady Shayne, discovers Dolly and Vincent in a passionate kiss, she is moved to share with them and their cynical young friends her own life story. Faced with a similar dilemma in 1875, she ran away from family and fortune to marry her beloved Carl Linden in his hometown of Vienna.
Act 2 is set there five years later, in a tawdry café where Carl leads the band and writes songs while the virtuous Sari (Carl's diminutive for Sarah) works as the period equivalent of a "Sweet Charity" dance-hall hostess. Colorful characters surround them, including three café prostitutes; Herr Schlick, the club's sleazy owner; Capt. August Lutte, a womanizing brute with designs on Sari; and Manon, an aging French chanteuse who performs at the club and was supplanted in Carl's bed by Sari.
Disaster ensues when Carl is killed in a sword fight with Capt. Lutte while defending his wife's honor. Act 3 returns to London and jumps 15 years. Sari is now a celebrated continental singer who has made her late husband's songs famous. Lord Shayne of Grosvenor Square is courting her to be his wife, but she is hesitant. She marries him only after confessing that Carl is the only man she will ever love, something she voices in a reprise of one of the show's most enduring songs, "I'll See You Again." A final brief epilogue returns us to 1929, when an inspired Dolly and Vincent commit to each other as they and their friends cavort to a jazzed-up version of Sari and Carl's love song.
Gieleta's biggest misstep is to change the show's eras. The prologue and epilogue are now set in the mid-1960s, and we flash back first to the 1920s and then the World War II era. This wreaks havoc with Coward's careful reflection of periods in his music, and while the '60s may have some similarities to the Roaring '20s, that era has nothing in common with late-nineteenth-century Vienna. A second mistake is to have separate actors as Lady Shayne and Sari.
The show's coup de théâtre was seeing actor Peggy Wood morph into the young Sari in full view of the audience while in mid-song. But this is also a practical matter. There's nothing for Lady Shayne to do during the long stretches in the past. Gieleta has Phillips wander on and off, watching aimlessly and willing scenery to move, and uses her as an artificial Aristotelian substitute to bring the curtain down in the middle of Coward's second act, at a place where there is no reason for stopping. (The director unwisely jettisons the three-act format in favor of the more modern two.) He also adds an utterly unnecessary rendition of "Zigeuner" for Phillips to kick off Act 2 that only damages the song's dramatic purpose when Sari sings it as the final full number of the night. (At least Phillips' performance of the song is splendid, as is the rest of her work.)
On the plus side, Gieleta's considerable directorial talent (I loved his "Lingua Franca" Off-Broadway last year) results in strong performances from a 25-person cast freighted with opera singers. Impish William Ferguson finds charm and spice in the blandly written Carl, and Sarah Miller laces Sari with an intriguing neuroticism. Their singing is glorious, together or apart, with the delightful "Dear Little Café," in which the couple imagines running their own establishment, a highlight. Joshua Jeremiah glowers properly as the villainous captain and belts out his drinking song, "Tokay," with abandon.
An absolute standout is the unfortunately miscast Amanda Squittieri, as Manon. Young and beautiful, with a stunning operatic voice she maneuvers with exquisite control, Squittieri is the antithesis of the character. Undeterred, she simply makes Manon her own, playing the hard-boiled singer's self-deprecating remarks about her age and rough voice as an insecure fishing for compliments. Squittieri's account of Coward's indelible "If Love Were All" plays into rather than against its sentiment, but it's nevertheless heart-stopping.
The time shift forces Gieleta to move "Green Carnations," a sly Act 3 book song about Oscar Wilde's influence on 1895 London society, to the first act as a cabaret number. (Carl Linden would never write such a song!) Alas, Christopher Caines' busy choreography steps on the lyric at every turn, killing the comedy, a mistake he also makes in "Ladies of the Town," the three prostitutes' gleeful rub-their-nose-in-it number (which also should not be a performance number but here, alas, is). Cut entirely is Act 1's "The Last Dance," in which Sarah's bridesmaids naughtily flirt with their prospective beaus sans chaperone. Its loss means that when the now-married bridesmaids reappear years later to sing "Alas, the Time Is Past," we have no idea who they are, and the number just lies there.
Despite its strong score, the impossibly dated "Bitter Sweet" is never going to regain a place in the performing repertoire, which makes the attempts to modernize it so mystifying. Nevertheless, Coward fans and anyone with an interest in musical theater history will not want to miss this rare chance to encounter it.
Presented by and at the Richard B. Fisher Center for the Performing Arts at Bard College as part of the SummerScape Festival, Route 9G, Annandale-on-Hudson, N.Y. Aug. 4–14. Schedule varies. (845) 758-7900 or www.fishercenter.bard.edu. Casting by Holly Buczek.