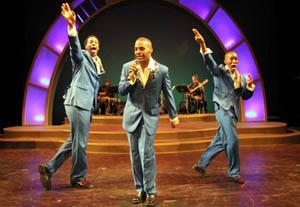 If you've been hankering for church but missing services, "Black Nativity Now: A Gospel Celebration" will bring the black gospel church to you within the walls of, ahem, a church. Playing at the Theatre at St. Clement's, the show has everything needed to rouse your religious fervor, whether you came in with it or not: soulful vocals punctuated by extended runs; vigorous clapping; loud, manic music; and choir robes that move in a zigzag of color. Unfortunately, the birth of Jesus, which is allegedly the evening's subject, gets lost in all the showboating and drive-bys through the various facets of black culture.
After a promising start in which Kelvyn Bell plays a mean jazz guitar solo, the rest of the cast file in unremarkably. They begin with a rap, about the Ten Commandments and their relevance to current events, that introduces the first of several digs at Islam. Evangelizing about God's love while showing no love to the Muslims, the show develops in an interactive, call-and-answer style that is standard fare for black church services. Led by an ebullient pastor (Nikkieli DeMone) who addresses the audience as "Beloved," the chorus proceeds to sing a variety of gospel and Christmas standards in a superstandard way, thanks to powerful vocals and an exciting original score by Bell.   
Unfortunately, the show delivers poorly on the main theme. Rather than recap the birth of Christ, "Black Nativity Now" turns Jesus, Mary, and Joseph into afterthoughts, focusing instead on presenting the spectrum of black entertainment and roots in 75 minutes. Each song comes with excessive costume, character, and choreography changes, but there is very little mention or sighting of the holy family. And when we do see or hear them, they don't elicit any of the warmth or good cheer that is normally associated with the Nativity story. Instead, they are gossiped about in sisterspeak (literally) until pregnant Mary (Breanna Bartley) comes in, doing strenuous contemporary dance moves that don't consider her significant bump, with Joseph (Jarvis B. Manning Jr.) in tow. They contribute little else.   
Largely framed by Tracy Jack's choreography and Mia Bienovich's costumes, the show appears to be in a race to see how many black cultural touchstones it can fit in. Motown, stepping, Negro spirituals, revivals, Africa, and the Jackson 5 are but a few things that you get on this tour, and they're five too many. Despite the production's busyness, director Alfred Preisser orchestrates every entrance and exit smoothly.   
"Black Nativity Now" may have a lot of black, and there's tons of gospel, but it needs a heckuva lot more Nativity.       
Presented by Jeffrey Glaser, Christopher McElroen, Alfred Preisser, Dana Watkins, Kingsize-USA, and 9One Productions at the Theatre at St. Clement's, 423 W. 46th St., NYC. Dec. 9–Jan. 2. Schedule varies. (212) 352-3101, (866) 811-4111, www.theatermania.com, or www.blacknativityoffbroadway.com.