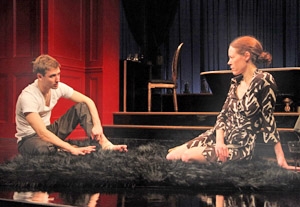 It's not really clear what Craig Wright hopes to accomplish with "Blind," his contemporary retelling of the Oedipus story. The hero's tale, in which a curse leads to incest and corruption, appears to parallel the scandals of many 21st-century elected officials. Does Wright want to make a point about the prevalence of sexual misconduct among today's politicians? Is he exploring the character psychology that Freud used to develop his famous theory of family relationships? Or is he just repeating the original message about fate being exacting and inescapable? If so, why tell essentially the same tale with a few variations and a cell phone thrown in? Like a dog chasing traffic, this 80-minute play takes off after multiple objectives but never catches any of them.
The three-person cast and director Lucie Tiberghien try their level best to tame this unruly work but ultimately fail to bring it to heel. But then, who could take clunky lines like "Your brittle maintenance of this illusion is deeply unattractive" or "You're running from a seemingly insurmountable civic challenge into the cold, false arms of an imagined personal fate" and make them sound like impassioned speech? There's lots of screaming, blood, and sex, including a particularly gory climactic combination of all three, but the action is most effective when the shouting has died down and the principals have accepted their gruesome fate.
Veanne Cox artfully charts the shifting emotions of Jocasta, the tragic queen who has unknowingly married her own son. In Wright's version, she is the prime mover of events rather than her husband, and the playwright has placed nearly impossible demands on the actor playing her. Cox has to totally reverse the arc of the character by the grisly ending, while also conveying love, lust, regal authority, rage, and terror when Jocasta finally admits what she has done. You have to admire Cox's bravery for tackling such a beast of a role. There is much to marvel at in her performance, but she succumbs to the confusions of the script. Seth Numrich captures the callow arrogance of Oedipus but lacks the gravitas to put across the beyond-his-years authority the other characters say he possesses. Danielle Slavick has a chilling final speech as a deceptive maid who sees through her ruler's pretensions.
Takeshi Kata's blood-red bedroom sets the scene effectively, while Matt Richards' lighting conveys the passage from blazing day to ominous night.
Presented by and at Rattlestick Playwrights Theater, 224 Waverly Place, NYC. Feb. 25–March 21. Mon., Wed.–Sat., 8 p.m.; Sun., 3 p.m. (212) 868-4444 or www.smarttix.com. Casting by Calleri Casting.