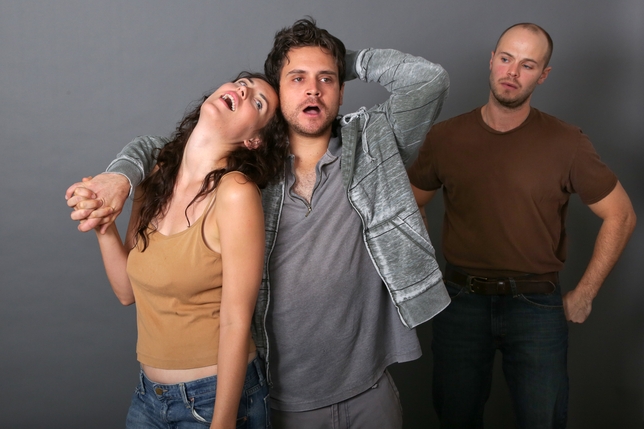 Iraq vets returning from combat have become our Lost Generation, their stories serving as inspiration for countless writers and artists. But finding someone who can translate the power of those stories without becoming hackneyed or moralizing is rare. James McManus' unsettling new play "Blood Potato" smartly avoids the trap altogether. Here, the troubles don't begin in the military. They started long before, in the rust belt town of Donora, Pa.
When Declan O'Quinn (Dennis Flanagan) comes home from Iraq, he trades in one hell for another. A world away from the Middle East, Donora is a different kind of nightmare, one that began long before the war: Empty steel mills have left room for poverty and crystal meth to take hold of the community. Instead of being broken by his tour, Dec is the glue that holds his family together. His brothers, Fly (the darkly charismatic Zack Griffiths) and Quinn (Mike Mihm), are the ones who are floundering. They have no vision for the future, because their past remains all too clear.
One of the biggest casualties of this hometown devastation is Janelle (Beth Wittig), a child of the foster-care system whose meth use has grown into an all-consuming addiction. When we first see Janelle she is a tempest, coming down from a high that propels her like a perilous force of nature. But McManus has a gift for monologues, fleshing out a full character in a few lines, and Wittig, in a standout performance, uses these intimate moments to offer a tender glimpse of the fragility behind this drug-fueled cyclone. Meth, Janelle says, "was the only thing that ever gave me a bottom," otherwise she would "just fall and fall."
This vulnerability is also conveyed through puppets (designed by Rosalind Lilly) that portray the characters' childhood selves. We see Dec and Janelle meeting for the first time—bent but not yet broken—and the puppets' blank faces are poignant reminders of their impressionability at that age. It's a sweetness that the play desperately needs but which falls down in the execution. The actors' handling of the puppets is often clumsy, and the scenes that experiment with more-demanding puppetry interrupt Kevin Kittle's otherwise brisk direction.
It isn't until late in "Blood Potato" that we see the three O'Quinns as their childhood selves, a band of self-sufficient but still fragile brothers, which makes their present state all the more tragic. Those bonds, formed early on, are the only thing they have left in a community shattered by poverty, drugs, and war. Unfortunately, McManus suggests, they're also some of the most difficult things to keep.
Presented by Apothecary Theatre Company at the Clurman Theatre, 410 W. 42nd St., NYC. Nov. 5–24. (212) 239-6200, (800) 432-7250, or www.telecharge.com.
Critic's Score: B+