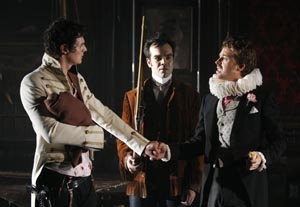 Does the title grab you? If so,
Bloody Bloody Andrew Jackson
:
The Concert Version
is probably your kind of show. Making its New York debut, this newest bit of pop playfulness from Les Freres Corbusier is a silly-smart entertainment that feels like a fifth-grade pageant hatched under the tutelage of The Harvard Lampoon and composed by Spinal Tap. 
The evening begins with our seventh president (Benjamin Walker), envisioned here as a cocky rock 'n' roller, working the crowd. "You guys are sexy as shit; I'm going to put it in you," he promises, and he's true to his word. For the next 100 minutes, we follow the in-your-face Jackson on a historical tour through politics, romance, and a whole lot of ass-kicking (Indians, he's looking at you).
Writer-director Alex Timbers has a strong sense of theatrical economy, fast-forwarding and hitting the pause button at the right times. We see Jackson as a boy sandwiched between the carcasses of his dead parents (yup, Indians got 'em) and negotiating that age-old line between work and family. "I love you," he tells wife Rachel (Maria Elena Ramirez), "but I've also got to kill the entire native population."
Michael Friedman's songs—sometimes seamlessly integrated, sometimes jumping out like pictures in a pop-up book—provide what the moment needs: a bit of whiny rage after Jackson's parents die ("Life sucks—and my life sucks in particular"), an off-the-wall zinger as contemporaries debate his presidential merit ("I'm sure Michel Foucault would have an opinion, but he hasn't been born yet").
The influences on this reference-heavy tuner are too numerous to list, but among the strongest is
Spring Awakening
, called to mind by the anachronistic rock score, casually wielded hand mikes, and onstage neon lighting. (Walker even bears a passing resemblance to Jonathan Groff.) Donyale Werle's set design, meanwhile, seems lifted from a
Rocky Horror
audience shoutback, equating the White House with a "hunting lodge for rich weirdoes."
But through the visual quotes and the semi-ironic
Simpsons
-style satire, something fairly rare emerges: a complex musical with a conflicted point of view. The creators have trouble choosing sides in the Jackson debate—populist hero or "American Hitler"?—and their attempt to treat their ambivalence honestly leads to a third act that lacks the breezy energy of what came before. I'm not sure the shift works, but it's nice to see a rise-and-fall story that isn't clichéd—the story of how the people came together behind one of their own, a man who defeated a corrupt political cabal that thought him unfit for the Oval Office, only to perhaps prove his critics correct.
Timbers' cast of relative unknowns is not only energetic but precise. Walker practically churns charisma. Other standouts include Lucas Near-Verbrugghe, as a delightful, Twinkie-chomping Martin Van Buren, and Bryce Pinkham, intensely menacing as both the turncoat Blackhawk and an evil, weasel-wielding Henry Clay.
For the record, I can find no evidence that Clay went about clutching a weasel, ferret, or mink, but
Bloody Bloody Andrew Jackson
is the type of show that had me seriously considering the possibility. Even at its most outrageous, it feels true. As politicians and theatre artists will tell you, that's more important than being factual.
Presented by the Public Theater in collaboration with Center Theatre Group and in association with Les Freres Corbusier
at the Public Theater, 425 Lafayette St
.,
NYC
.
May 17
–
24. Tue
.,
7 p.m
.;
Wed
.–
Fri
.,
8 p.m
.;
Sat
.,
2 and 8 p.m
.;
Sun
.,
2 and 7 p.m
. 
(
212
)
967-7555 or www.publictheater.org
. 
Casting by Jordan Thaler and Heidi Griffiths
.