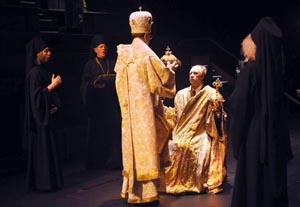 History plays require a certain amount of catch-up. Unless we're going back to the big bang, we join intrigue already in progress. But in director Declan Donnellan's marvelous "Boris Godunov," now playing an all-too-brief run at the Lincoln Center Festival, the baggage of so much plot and plotting feels light as can be. History has never seemed such a continuum as it does in this spin on Alexander Pushkin's tale of two lowborn usurpers battling for the Russian crown. Both have stepped into powerful waters, and though they may add their own ripples, they will be buoyed or buried by waves with lives longer than their own.
For all the philosophical implications, Donnellan's production has none of the weary marks of the cynic or the academic. This "Boris Godunov" crackles with ambition. Its inhabitants struggle against each other, fate, God, national wounds, international rancor. Does that struggle itself create some meaning? I'm not sure, but it's an exhilarating ride while it lasts.
The title character (Alexander Feklistov) is posited as an amalgam of Shakespeare's Richard III and Julius Caesar. A trusted steward, he removes those in the path of his succession, then refuses the crown until the multitude begs him to accept it. Popular support deserts him, though, when the crowd becomes enamored of Grigory (Evgeny Mironov), a runaway monk who has cloaked himself in the identity of Dmitri, the murdered czarevitch. (Godunov can hardly point out that he knows Dmitri is dead, for his proof is that he himself was executioner.)
As is often the case, Donnellan works here with scenic designer Nick Ormerod, his Cheek by Jowl co-founder. The long sliver of set at the Park Avenue Armory doesn't offer much in the way of large pieces, but the stark staging, strikingly lit by Judith Greenwood, sports a couple of nifty revelations of space and makes excellent use of the audience, positioned on either side of the stage to look like the Russian duma.
Donnellan exhibits a particular gift for moments of ceremony, initially drawing us in with religious rites intoned in a burnished baritone; later, he whips us up in a political rally Grigory hosts with the charisma of a media-age demagogue. And he accomplishes all this with a cast that speaks Pushkin in his native tongue. To the best of my knowledge, Donnellan does not, but that has not prevented him from mounting an effortlessly intelligible production. (In this, Dina Dodina's concise surtitles don't hurt.)
The show contains one of those scenes I know I will remember long after the evening's other splendid moments have faded. It's a moonlit meeting between Grigory and Marina (Irina Grineva), a Polish beauty of noble heritage, and to end near where we began, the scene is powerfully soaked in water imagery. Their power struggle, a charged series of reversals, says more about the nature of men and the destiny of nations than could any scene of more overt political intrigue.
Presented by Lincoln Center Festival 09 in association with Park Avenue Armoryat Park Avenue Armory, 643 Park Ave
.,
NYC
.
July 22
–
26. Wed
.–
Sun
.,
8 p.m
.
(
212
)
721-6500 or www.lincolncenterfestival.org
.