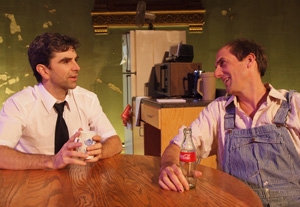 Kathryn Dickinson's earnest but lackluster new play "Born of Conviction" draws from the author's personal experience with the titular1963 statement—signed by 28 white ministers at the Southern Methodist Conference—that stood against racism and communism. It examines how, as a child, the hate permeating Southern society impacted Dickinson's highly religious family life in 1960s Mississippi and how, as an adult, its aftereffects influenced her less religious family in 1990s New York.
Using dream sequences and flashbacks to crisscross the two time periods, Dickinson tells the story of a woman wrestling with deciding if her family did the right thing by leaving Mississippi. The past haunts Kelly (Kathryn Velvel Jones) and prevents her from enjoying her life with her whip-smart daughter, Greta (Dana Berger), and African-American lover Simon (Jordan Mahome).
Staged in a historic church with pews, on a thrust stage, "Born of Conviction" has an intimate setting. However, because the script is a sequence of snapshots from Dickinson's youth and motherhood, there is scarcely enough time to get to know and sympathize with the characters and a lack of narrative drive. Moments are alternately melodramatically overwrought and excessively understated: The young Kelly (Lila Smith Marooney) cowers under a table as gunshots crack outside her house, but she's too innocent to understand that a rope hanging in the forest is there for a lynching. While the production is conceptually strong, the underdevelopment of the characters coupled with the lack of a satisfactory dramatic resolution prevents the show from having a pulse.
Despite a few foibles—an unused swing hangs in the kitchen, an undefined backstage area, and a lighting design that keeps past scenes illuminated—the play is staged well by Kara-Lynn Vaeni and nicely scored by Janice Lowe.
"Born of Conviction" has powerful subject matter, but we need more than fear and fact to be invested. There's plenty of what here, but not enough who and why and, ultimately, not enough conviction.
Presented by White Bird Productions at the Irondale Center, 85 South Oxford St., Brooklyn, NYC. Oct. 20–Nov. 5. Schedule varies. (212) 352-3101, (866) 811-4111, www.theatermania.com, or www.irondale.org.