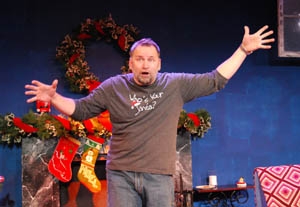 As holiday entertainments go, "Brian Dykstra's Ho!" is not the bottom of the wassail barrel. A two-act one-man show written and performed by Dykstra, "Ho!" takes two contrasting attitudes toward Christmas and runs with them, with diminishing results.
The first half finds Dykstra recounting the story of how the Jolly Green Giant's son, Sprout, fought back against Santa's egomaniacal commercialization of Christmas. Dykstra, who has appeared on HBO's "Def Poetry," has written to his strengths, and his performance is somewhere between a story-length rap and something you'd see at a poetry slam. Unfortunately, he also hits the rhymes so hard that you're soon lulled into visions of sugarplums dancing in your head, only to be startled back to reality by a tossed-off profanity or a sudden swerve into more absurdity. For all of Dykstra's cleverness with rhymes, the story has the tattered feel of a long-running joke between friends, not the kind of thing one seeks out for holiday-themed entertainment. (And certainly not the satiric take on Christmas that prompted the press materials to compare "Ho!" to David Sedaris' "Santaland Diaries.")
The second act, which includes an odd costume change that involves Dykstra clipping a pair of sunglasses to his collar, is about Sammy the Christmas tree, who dreams of decorating an elegantly appointed Upper East Side home for the season. Alas, Sammy's dream 'isn't destined to come true; unlike Charlie Brown's Christmas tree, Sammy is too big and beautiful. No one on the Upper West Side, where Sammy disappointedly finds himself, wants or can afford such a massive tree. All is not lost, though; a last-minute miracle saves Sammy and the holiday spirit that Dykstra so thoroughly mocked earlier.
Apparently instructed by director Margarett Perry to remain still in front of the microphone, Dykstra fails to capture and hold our attention with the shorter second piece. Sammy's story feels like a New York version of popular tales about sad Christmas accoutrements, from "A Charlie Brown Christmas" to Elmo and Patsy's song "Percy, the Puny Poinsettia." The sudden forced sentimentality feels out of place and insincere. Dykstra no doubt intends to send audiences out suffused with warmth and good cheer, but they're more likely to feel relief at re-entering a world that doesn't rhyme so insistently.
Presented by and at the Drilling Company, 236 W. 78th St., NYC. Nov. 29–Dec. 19. Mon., Wed.–Sat., 7:30 p.m.; Sun., 3 p.m. (No performances Wed. and Thu., Dec. 1 and 2, and the week of Dec. 5–12.) (212) 352-3101, (866) 811-4111, or www.theatermania.com.