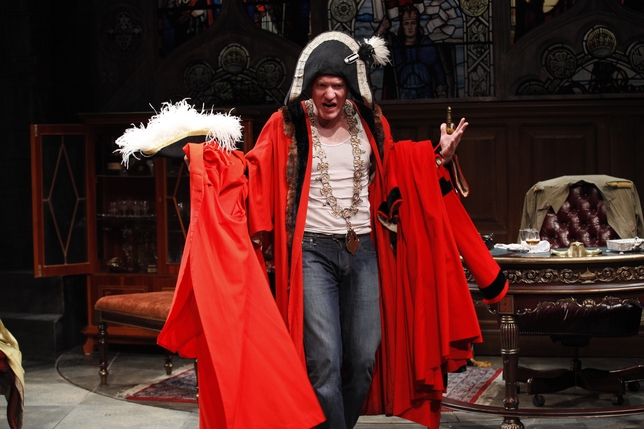 The work of Brian Friel, Ireland's most prolific and successful contemporary playwright, is not often overtly political. But his "The Freedom of the City," first produced at the Abbey Theatre in Dublin in 1973, is a polemic detailing misdeeds and a strangled cry against injustice. Set in Derry in Northern Ireland, it interprets events that followed a 1972 Roman Catholic civil rights protest against the British authorities that became known as "Bloody Sunday." It is said that Friel took part in the protest, at which blood was shed and lives were lost. To gain some distance from the emotional core of the events, Friel employs Brechtian alienation devices to create a "Rashomon"-style documentary, in which the story of three innocent protagonists is told from contrasting points of view. Although the play is being given a first-rate production by the Irish Repertory Theatre, the format proves to be Friel's undoing, his sympathetic effort taking on a jerky, patchwork effect that is curiously uninvolving.
Three peaceful marchers, reeling from tear gas, stumble by accident through a side door into the mayor of Derry's municipal parlor. They are 22-year-old Michael (James Russell); Lily (Cara Seymour), a 43-year-old mother of 11; and young, flippant Skinner (Joseph Sikora). The interlopers enjoy the luxuries on hand, including a liquor cabinet, a record player, and a well-appointed toilet. All are unemployed. Michael is the nervous innocent; Lily is the jolly if ignorant and worn Mother Ireland; and Skinner is the embittered drifter. Their presence is soon termed an "occupation" by the British forces, with fatal consequences. (Friel has no interest in suspense; we know immediately that this trio will become accidental martyrs.)
The play begins as an inquiry by a British judge (John C. Vennema), who brands all three as "callous terrorists." As we get to know Michael, Lily, and Skinner, commentators give their own versions of the events. These include a priest (Ciaran Byrne), who sees "godless communism"; a psychologist (Christa Scott-Reed), who analyzes the "subculture of poverty"; a balladeer (Clark Carmichael) offering songs of patriotic praise; and a television reporter (Scott-Reed again) busy manipulating the facts. Although the author's principal outrage is directed toward the British authorities, he also pours scorn on these would-be interpreters as each reshapes the truth.
Friel keeps his principal trio rather symbolic, with none gaining much gravitas until the final scene. Under Ciarán O'Reilly's fluent direction, Seymour's perky and unworn Lily seems the most emblematic of the three, while Russell's Michael is the most convincing. Among the strong supporting cast, Byrne is a particularly persuasive priest, Vennema makes his judge suitably pompous, Scott-Reed doubles effectively, and Carmichael is in very good voice as the balladeer.
Presented by and at the Irish Repertory Theatre, 132 W. 22nd St. NYC. Oct.14–Nov.25; Jan. 2–20.(212) 727-2737 or www.irishrep.org. Casting by Deborah Brown.
Critic's Score: C+