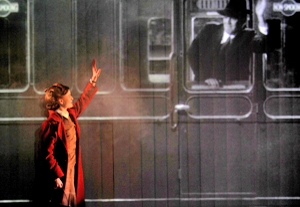 In my experience, the currency of theatrical deconstructionists is generally the smirk. So it was with some trepidation that this Noël Coward fan went to Kneehigh Theatre's production of "Brief Encounter" at St. Ann's Warehouse. This multimedia revamp of the 1945 Coward–David Lean film, in turn based on the one-act play "Still Life" from Coward's "Tonight at 8:30," sounded unnecessary. Why muck about with a classic? I hoped I wouldn't walk away angry. Quite the reverse. This lovingly imaginative rumination on an iconic film is a joyous burst of theatrical inventiveness. Quite simply, I'm mad about the show.
It begins in the lobby, with the acting company dressed in movie-usher uniforms and performing songs of the period. Eventually, these strolling buskers lead remaining audience members into the theater, and as title credits roll on a movie screen, a young couple gets up from the front row and plays an intense romantic scene in the aisle. Patrons shush them, and eventually she bolts, stepping through the screen and appearing on film. Vocabulary has been set, and we're off.
That scene, in which Alec, a handsome doctor, makes Laura, a lovely housewife, admit they have fallen in love despite each being married with children, repeats later at its proper place in the story. They meet initially in a suburban train station, when he removes a piece of grit from her eye. Soon they are meeting regularly, but they don't tell their spouses. This being prewar Britain, and Alec and Laura being upright, moral people, the end is inevitable.
Juxtaposed to the main story are two working-class couples: Widow Myrtle runs the refreshment room at the station and flirts with Albert, a station employee. Younger Beryl and Stanley both work for Myrtle. Their simple and reasonably uncomplicated romances make Alec and Laura's forbidden one even more poignant.
Adapter-director Emma Rice remains true to Coward's essence while enlivening the work with songs (some by Coward), film sequences, dance, and even puppets (representing Laura's children). Repeated episodes of stylized movement find a moving physical expression of societal constraints and emotional repression. Rachmaninoff's Piano Concerto No. 2, so important in the film, surges as scenes of crashing waves roll upstage. Interestingly, the text hews more closely to "Still Life" than the film, which is told in flashback, practically eliminates Beryl and Stanley, and cuts back on Myrtle and Albert in order to focus more on the leading couple and bring in other characters.
Hannah Yelland and Tristan Sturrock wisely underplay the central lovers. If they miss the detailed subtext of Celia Johnson and Trevor Howard, that seems intentional: Subtext is expressed here through the above-mentioned devices. The rest of the company takes on multiple roles with élan. Annette McLaughlin and Joseph Alessi comically heighten but never coarsen Myrtle and Albert, and Alessi does fine double duty as Fred, Laura's loving if stolid husband. Dorothy Atkinson and Stuart McLoughlin are saucy and spunky as Beryl and Stanley.
Neil Murray's fluid metal set of rolling staircases and a bridge effectively suggests a train station and other locales. His evocative costumes and Malcolm Rippeth's moody lighting add to the spell. Stu Barker's music is attractive, particularly his setting of Coward's poem "I Am No Good at Love," and Simon Baker's terrific sound design plays like the movie soundtrack it should be.
Rice does allow a few smirky moments up top, but they are soon dispatched with in what feels like an attempt to get the expected out of the way. The most important thing this "Brief Encounter" does is provide a way in for contemporary audiences to the hermetic emotions of Coward's world, so foreign to us now. Dare I say it, I believe even the Master would approve.
Presented by and at St. Ann's Warehouse, 38 Water St., Brooklyn, NYC. Dec. 8–Jan. 17. Tue.–Fri., 8 p.m.; Sat., 2 and 8 p.m.; Sun., 1 and 7 p.m. (No performance Thu., Dec. 24 and 31, and Fri., Dec. 25; additional performance Mon., Dec. 28, 8 p.m.) (718) 254-8779 or www.stannswarehouse.org. Casting by Sam Jones.