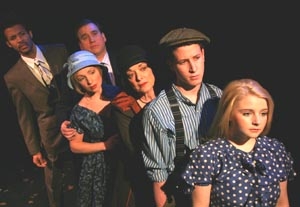 This is Back Stage's review of the show's original run at the Triad this past March
.
A revue of popular music, historical bits, and anecdotal material from the Great Depression of the 1930s is undoubtedly more timely now than anyone could want, but "
Brother, Can You Spare a Dime
?":
Songs and Stories From the Great Depression
is also a highly entertaining mosaic of the era. The show was conceived and skillfully directed by Bill Daugherty, who's also part of the versatile, talented cast of six. They romp through more than two dozen songs, often projecting the feeling that people from that time are singing them.
The songs are notable for their range—from determined optimism to bitter irony—and their uncanny ability to both capture and shape the tenor of those years. And the performers bring great conviction and verve to them. They work together in invigorating ensembles and offer standout solos that sometimes develop into affecting medleys. Daugherty gives a powerful rendering of the title song in his bracing tenor, while Deborah Tranelli joins in with a forceful interpretation of "My Forgotten Man." On the more jaunty side, Christina Morrell and Alexander Elisa do a blithe duet of "Let's Have Another Cup of Coffee," and Jennafer Newberry, who serves as the ingénue, offers a nifty impersonation of Betty Boop–voiced Helen Kane in "I'm an Unemployed Sweetheart." Rounding out the group is Morgan West, the company juvenile, who puts a different spin on "Love for Sale" as a young hobo riding the rails. The arrangements, by musical director Doyle Newmyer—who plays piano and keyboard with the three-man band—are bright and sometimes imbued with ear-catching modulations. Lori Leshner's musical staging adds zest to many of the numbers. Between songs there are recordings of iconic voices from the period—from Franklin D. Roosevelt to Eddie Cantor—and remembrances from everyday people enacted with feeling by the company.
While watching folks make their way through economic distress may not be a top-of-the-list entertainment choice right now, "
Brother, Can You Spare a Dime
?" is enjoyable enough to make you forget fading 401(k)s for a couple of hours.
Presented by Thoroughbred Records and Max Weintraub at the Triad Theatre, 158 W. 72nd St
.,
NYC. Opened Oct. 9 for an open run. Fri
.,
7 p.m
.;
Sat. and Sun
.,
3 p.m
. (
212
)
352-3101
, (
866
)
811-4111, or www.theatermania.com
.