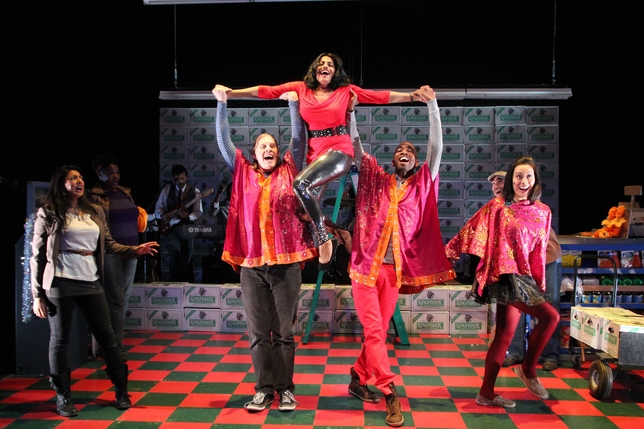 How many times can one sit through a retelling of Charles Dickens' holiday favorite "A Christmas Carol" before succumbing to a bad case of humbug fever? The timeless classic has been retold and reworked so many times on stage, screen, and television that it's difficult to summon up yuletide cheer for yet another trip through Scrooge's past and joyful celebration of his redemption. But invention can still be found in any material if the creators are original enough. Unfortunately, "Bumbug the Musical" is not that show. This tiny holiday bauble is forgettable at best and tedious at worst.
The rickety plot recasts the lonely, misanthropic protagonist as an Indian immigrant angrily tending his convenience store—a Kwik-E-Mart, in a cheap reference to Apu of "The Simpsons"—on Christmas Eve. Scroogewallah—yes, that's his unfunny name—is smitten by a pretty young customer named Sunita, but he finds her too Americanized for his tastes and refuses to accept her invitation to a family gathering. Naturally, an African-American angel appears and shows him visions of his past, present, and future in order to brighten his outlook.
There are one or two bright moments, such as a humorous Bollywood-style mini–production number called "Aa-jaa! Aa-jaa!," performed with campy relish by the Indian singer Falu as Sunita's randy mother. But the paper-thin book by Samrat Chakrabarti and Sanjiv Jhaveri rambles; there's no clear focus, and director Mercedes Murphy is unable to give it one. Thus, the show feels too long even though it runs only slightly more than an hour. The score features mildly intriguing music by Chakrabarti, but his and Jhaveri's lyrics are simplistic and riddled with false rhymes. I stopped writing them in my notebook after a while, but some of the choicest are "body" paired with "deli," "shoes" with "confused," and the worst: "rice" and "Jesus Christ."
One can only feel sorry for the hard-working cast. Andrew Ramcharan Guilarte manages to impart some honest emotion as Scroogewallah, particularly during a flashback sequence involving a tragic incident. Lipica Shah exhibits a lovely voice and a bubbly presence as Sunita, and Adrienne C. Moore wisely underplays the sassy stereotype her angel could have imparted. Falu and Debargo Sanyal eke out a few laughs as the parents of both Sunita and Scroogewallah. Kiarri D. Andrews, Brooke Ishibashi, and Matthew Knowland harmonize well as a multiracial chorus. Let's wish all of them a better use for their talents in the new year.
Presented by Laughistan at the Clurman Theatre, 410 W. 42nd St., NYC. Dec. 15–22. (212) 239-6200, (800) 432-7250, or www.telecharge.com.
Critic's Grade: D