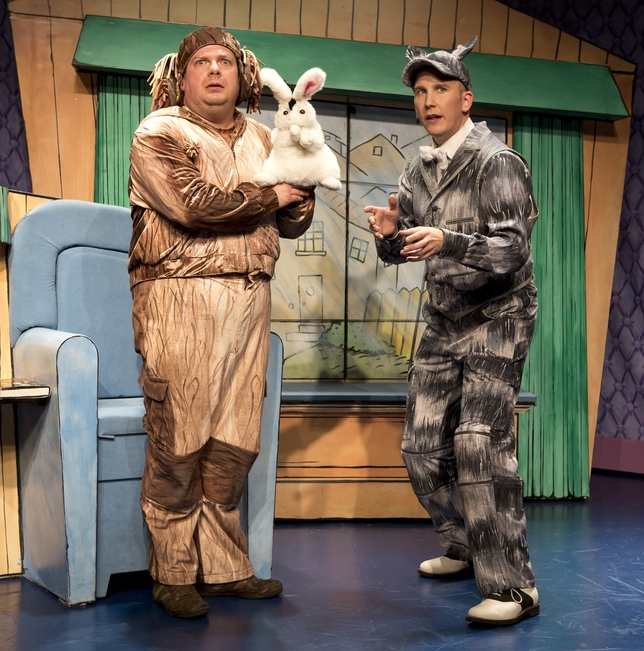 A few years ago I interviewed Charles Busch, known for his madcap lower-Manhattan camp fests. I remember him remarking with some regret that his once-edgy downtown neighborhood had become populated with maternity shops and baby-supplies stores.
Now, it seems, Busch has decided to join 'em instead of beat 'em. With "Bunnicula" he takes on the kiddie-theater genre, providing the book for a musical based on Deborah and James Howe's 1979 children's tale of the same name. The plot concerns the Monroes, a suburban family that discovers a cuddly bunny rabbit in a dilapidated cinema where a vampire film is being shown. They bring the creature home, and a few days later the vegetables in the family fridge turn up mysteriously drained of color. Apparently, the new pet (played in the show by a hand puppet) is some sort of herbivorous Bela Lugosi.
Busch is a fine match for this goofy material, even though it may seem like he's taken a big hop from the vampire lesbians of his Limbo Lounge days to the (alleged) vampire cottontail of this colorful live-action (yet very animated) cartoon. If he'd been born a generation or two earlier, Busch—with his snappy quips and deep knowledge of entertainment history, both high- and low-brow— might have felt right at home writing material for the drag-friendly Bugs Bunny at Warner Bros. or Jay Ward's droll pair of Rocky and Bullwinkle. Here he gets welcome support from composer Sam Davis, lyricist Mark Waldrop, and choreographer Connor Gallagher, who manage to pack a dozen lively numbers into the hourlong vehicle.
The actors playing human—Abe Goldfarb and Erin Maguire, as Mr. and Mrs. Monroe, and John Garry and Ashley Campana, as their kids, Toby and Debbie—create amusing if not indelible caricatures. But the real stars of the show are Robert Anthony Jones, as Harold, the family dog, and Prescott Seymour, as Chester the cat. Harold is an easygoing (though easily frightened) regular-Joe mutt, while Chester is delightfully fastidious and prissy. They are the Oscar Madison and Felix Unger of the Petland Discounts set, and they make a lovable comedy team.
Carl Andress directs the project at a spirited pace that tends to get a little too frantic toward the end. But there's also a wonderful sequence in the final stretch in which Howard runs into a couple of mangy free-spirited alley cats named Felony and Miss Demeanor (Maguire and Campana), who help him ransack the garbage for a disguise that is referred to as "salad drag." Watching a man in a dog suit dolled up and haughtily calling everyone "dahling," you can be sure that Busch hasn't strayed too far from his roots. The song in this sequence, "The Danger Zone," is Davis and Waldrop's best number.
Some parents won't appreciate a smattering of poop, pee-pee, and fart jokes, but kids likely will. The litter-box humor is offset by subtle lessons about finding courage, sticking to one's principles, and taking the time to appreciate loved ones, so both generations win. Theatergoers bringing only their inner child should also find some fun in the bargain.
Presented by Daryl Roth Productions and Theatreworks USA at DR2 Theatre, 103 E. 15th St., NYC. Feb. 10–April 14. (212) 239-6200, (800) 447-7400, or www.telecharge.com.
Critic's Score: A-