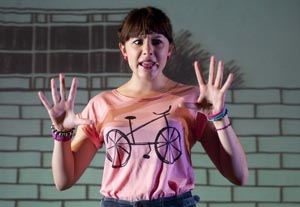 Rosie Wyatt makes a smashing professional and New York debut in Jack Thorne's edgy, frank drama "Bunny." As the title character in this hourlong one-person show, Wyatt holds her own and then some. If all the young acting imports from across the pond are as exciting as Wyatt, New York can look forward to some exciting new talent.
Director Joe Murphy keeps Wyatt, who kicks off the show at an impressive clip, on pace. Set in the anonymous British town of Luton—depicted in simple, appropriate animations by illustrator Jenny Turner and video designer Ian William Galloway—the work centers on Katie, a victim of nicknaming (hence the show's title), as she discusses an afternoon with her sort-of boyfriend Abe, who happens to be black. After an Asian kid accidentally knocks Abe's ice cream to the ground, a series of controversial and jarring events follow. Katie confronts controversial issues of racism, classism, and sexuality, and through Katie's semi-naive perspective, Thorne reveals the harsh realities of modern-day England. Katie is mature for her age and proud of her worldliness, but as the drama unfolds, it becomes clear that she is putting on a face. Wyatt fully embodies Katie's skewed innocence, right down to her wide eyes and juvenile bangs. She possesses a simultaneously confident and nervous energy that propel Katie's constant rambling.
Thorne writes in a wry, unapologetic style, which he has honed on television writing gigs for the controversial shows "Skins" and "Shameless." His script is tight and insightful, but it's Wyatt who should make headlines. She carries the show in a difficult part and conveys each character without losing the essence of Katie. "Bunny" could easily be another confused coming-of-age story, but Wyatt brings Thorne's work to life.
Presented by Nabokov as part of Brits Off Broadway at 59E59 Theaters, 59 E. 59th St., NYC. Nov. 6–20. Schedule varies. (212) 279-4200 or www.ticketcentral.com.