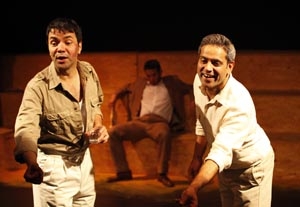 George Orwell did some time in the Burmese military police, and as anyone who has read him can attest, he was far too decent a man to be a cheerful servant of the Raj. The novel that came out of his experiences, "Burmese Days," was banned in India for many years for its unflattering portrayal of British colonial rule, though it also includes many elements of pulp adventure: an exotic locale, a corrupt official who tries to destroy an innocent man, a native rebellion, and a shameless romantic episode in which the conflicted hero rescues a damsel in distress from a rampant rhino. (She does everything but clasp her hands and sigh, "My hero!") Sadly, any potential for a ripping yarn remains unrealized in this leaden stage adaptation, which makes for a pretty tough slog.
Some of the problems can be traced to crudities in the novel, which was Orwell's first. Writer and director Ryan Kiggell tries hard to make the material theatrical: The six actors appear on stage for the duration of the play, take on multiple characters, provide the requisite jungle sound effects, and occasionally come together in a kind of Greek chorus. In theory, this should lend a fluidity to the proceedings, but more often it results in a simple lack of clarity. The staging also has a distancing effect, keeping us at arm's length from the characters when what we really need is greater depth and verisimilitude.
Jamie Zubairi plays both the hero, Flory (Orwell's stand-in), and the odious official U Po Kyin, who would make a pretty decent Bond villain. Amerjit Deu plays Dr. Veraswami, Flory's friend and the object of Kyin's plot, as well as the virulently racist Ellis, who tries to block Veraswami's admission to the local gentlemen's club. Both actors appeared to be underrehearsed, sticking stubbornly to the surface of their roles and fluffing their lines to a distracting degree. "Burmese Days" is well-intentioned, to be sure, but we all know what the road to hell is paved with.
Presented by Aya Theatre Company as part of Brits Off Broadway at 59E59 Theaters, 59 E. 59th St., NYC. Nov. 16–Dec. 4. Tue.–Thu., 7:15 p.m.; Fri., 8:15 p.m.; Sat., 2:15 and 8:15 p.m.; Sun., 3:15 and 7:15 p.m. (No performance Thu., Nov. 24.). (212) 279-4200 or www.ticketcentral.com. Casting associate: Annalie Powell.