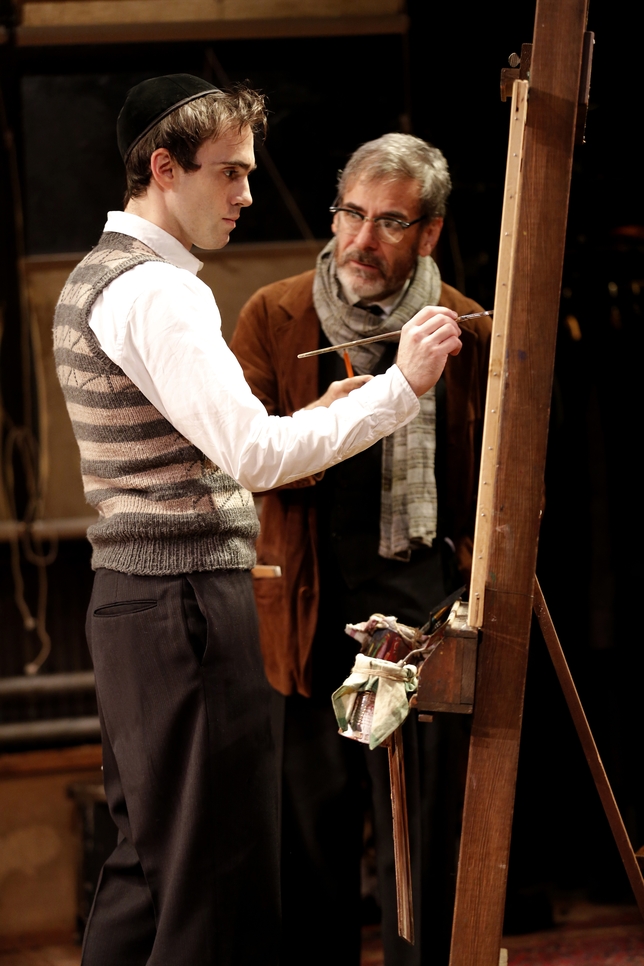 Adapting a novel to the stage is a tricky proposition, especially one told in the first person. You can wind up with long monologues delivered by a narrator standing center stage with nothing going on around him or her. Aaron Posner's theatrical version of "My Name Is Asher Lev," Chaim Potok's best-selling 1972 book, now at the Westside Theatre after a run at New Haven's Long Wharf Theatre, tends to rely a bit too much on these solo turns from the title character. There is also a noticeable amount of repetition in the dialogue scenes. Yet director Gordon Edelstein and a powerful three-person cast, particularly Mark Nelson and Jenny Bacon, in multiple roles, manage to overcome these flaws to deliver an intense and heartfelt story of art, religion, and family connections.
Asher is an orthodox Jew growing up in Brooklyn just after the terrors of World War II. As his stern father travels to fight anti-Semitism and his mother battles depression following the death of her beloved brother, Asher develops his talent for drawing. He later studies with a great sculptor, the secular Jew Jacob Khan. Asher's parents cannot comprehend his artistic inclinations, and he breaks with them and his community after employing Christian crucifixion imagery in his paintings.
As noted, too much of the action consists of Ari Brand as Asher delivering large chunks of the novel. Fortunately, Brand lends variety and punch to these soliloquies, imparting the young hero's passion for art and bringing his vision to life. The actor also carefully charts the interior struggle between the Lev family's traditions and the sensual pull of painting for Asher. There are too many similar segments that depict the senior Levs browbeating their son for his lack of piety and commitment to the Jewish cause. However, Edelstein, with the aide of James F. Ingalls' sensitive lighting, gives each vignette an intimacy and a verisimilitude that almost compensate for the sameness.
Nelson and Bacon make especially valuable contributions in these scenes and throughout the 90-minute piece. The skilled performers wisely avoid domineering-Jewish-parent stereotypes and concentrate on the emotions that motivate their characters' possessiveness. When Bacon delivers the line "Do you want to kill me?" as a teenage Asher arrives home two hours late, she could have easily played it for laughs; instead, she invests it with all the loss and pain this fragile mother has endured. Bacon also creates a smart and dry gallery owner and a tenderhearted nude model. Nelson infuses the furious father with reams of tragic subtext and gives life to a wise and compassionate rabbi, a jovial uncle, and a sharp and demanding Khan. These two versatile veterans make "My Name Is Asher Lev" a worthwhile theatrical experience.
Presented by Darren Bagert, Martin Massman, Ruth Hendel, Daryl Roth, Sharon Karmazin, Joan Raffe and Jhett Tolentino, Highbrow, Ted Snowdon, and Jamie deRoy at the Westside Theatre, 407 W. 43rd St., NYC. Nov. 28–May 26. (212) 239-6200, (800) 432-7250, or www.telecharge.com. Casting by Calleri Casting.
Critic's Score: B