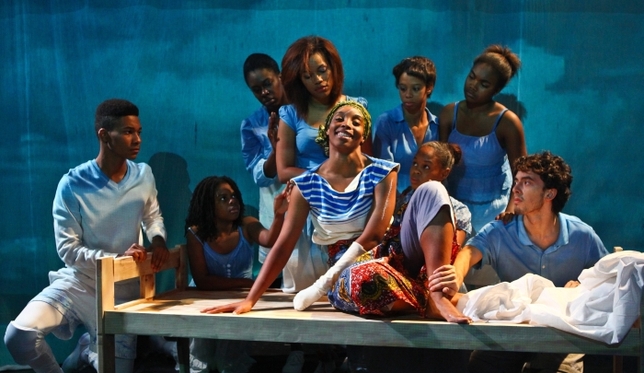 The Castillo Theatre has scored a coup with the American premiere of "Children of Killers," Katori Hall's examination of the Rwandan genocide and its aftermath. With this production, the little theater—whose inarguably worthy mission is part of the All Stars Project, which provides performing opportunities for underprivileged kids—has the chance to show the wider world of theater patrons and donors exactly what it can do.
So it feels unkind to point out that "Children of Killers" doesn't add much to our understanding of the atrocities, a topic explored extensively in film, theater, and some of the best journalism around (notably Philip Gourevitch's sweeping "We Wish to Inform You that Tomorrow We Will Be Killed With Our Families"). Its main point seems to be that reconciliation is complicated and almost impossibly difficult—which has the advantage of being true, but isn't exactly news—and its vehicle for the expression of this idea is the delicate post-genocide world of the children of the atrocity's perpetrators.
Hall has given herself a very difficult task, and if she doesn't quite succeed, it's hard to fault her for trying. Vincent (Terrell Wheeler), the conflicted son of a mass murderer, is trying to figure out what he should do when his father returns home after years away. His mother (Suzanne Darrell) has had another child (Naja Jack) in the intervening years, apparently as part of some kind of transaction to keep food on her family's table, though it's unclear if this was straightforward prostitution or some more nebulous arrangement. Vincent finds himself reliving one of his father's crimes near the end of the play, and it's unclear why, in narrative terms. Is Hall trying to say that the children of bad parents are doomed to repeat the past? That doesn't seem useful. Does she mean that good people sometimes do bad things unintentionally? Again, true but already known.
The play has a very defined sense of place and could have benefited from greater specificity among the characters and in Emily Mendelsohn's direction. Occasionally, a performer will try an East African accent; the excellent LaTonia Antoinette (who plays Vincent's crush, Esperance) always speaks with one, even though most of the characters don't. Still, Kerry Gibbons' costumes are terrific.
Despite Hall's interesting take on the thornier issues in the region, there simply isn't enough nuance in the script to attack those problems in an effective way. Antoinette is very good and casting directors would do well to check her out, with the expectation that "Children of Killers" plays at about the same level as a college production.
Presented by and at the Castillo Theatre, 543 W. 42nd St., NYC. Sept. 21-Nov. 4. (212) 941-1234 or www.castillo.org.
Grade: C