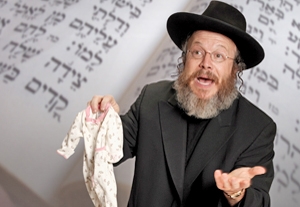 Can someone please call a moratorium on titillating titles? The last two months alone have seen "The Diary of Anne Frankenstein," "Manson: The Musical!," and now "Circumcise Me," all of them less outrageous than their titles would lead you to believe.
"Circumcise Me" is a particularly annoying moniker, as Yisrael Campbell's one-man show about his path from Catholic Philadelphian to life as a Jewish man in Jerusalem has the air of a standup routine that cries out for a brick-wall backdrop (instead, we get overly literal projections). Opening with an "Is it warm in here?" joke and then proceeding to drop gags about Dick Cheney, Sarah Palin, and the Gap (!), Campbell is neither outrageous nor particularly cutting-edge. His humor is of the comforting, snoozing Catskills variety, a surprise given his interesting past.
A recovering alcoholic since his teenage years, Campbell turned to Judaism after a girlfriend suggested he read Exodus. And that was enough for him to convert to Judaism three times—a fact that even he marvels over—until even the most discriminating members of the religion could look past his last name. But aside from a moving story late in the show about the bombings in Jerusalem, Campbell and director Sam Gold are too eager to snatch easy laughs from his story, refusing either to approach his material from a fresh perspective or elaborate on the ways in which someone who chooses the Jewish faith deals with prejudice. By the time the show ends, one has to wonder: He went through three circumcisions for this?

Presented by Evelyn McGee Colbert, Maximum Entertainment, and Daf Alef Productions at the Bleecker Street Theatre, 45 Bleecker St., NYC. Nov. 18-May 16. Wed., 3 p.m.; Thu. and Sat., 8 p.m.; Sun., 4 and 7 p.m. (No performance Thu., Nov. 26; additional performance Fri., Nov. 27, 2 p.m.) (212) 239-6200, (800) 432-7250, or www.telecharge.com.