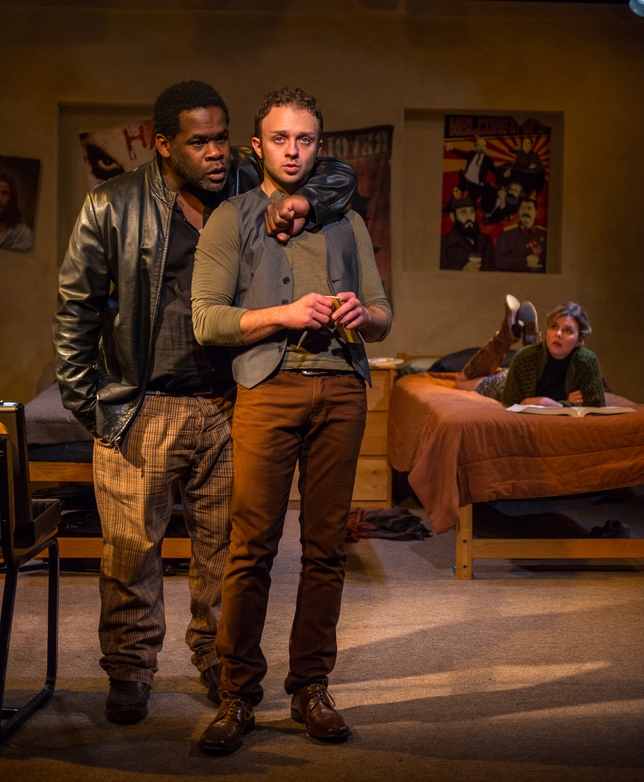 Timing can be a bitch. The Amoralists had Lyle Kessler's new play "Collision" in rehearsal when the Newtown, Conn., massacre occurred. Suddenly, an "incendiary black comedy" about a charismatic intellectual college student who attracts a small group of loner acolytes, provides them with guns, and pledges to leave "something of Lasting Significance behind" wasn't such a good idea. I am a great fan of the company, whose mission statement announces that it "produces work of no moral judgment" and is "dedicated to an honest expression of the American condition." "Collision," however, has run into its own brick wall.
Set mostly in a dorm room of an unnamed American college, the show begins with students Grange and Bromley jockeying over who will get which bed. It's immediately clear that Grange will dominate the emotionally stunted Bromley, whose rejection of faith and desire for "verification" crumble in the face of Grange's pursuit of a "loftier ideal." Grange brings the lovely Doe (despite the spelling she insists she was named not for a deer but for the note, by her heroin-addicted but loving musician father) back to the room for sex, which he insists on having with Bromley present to "share my passion." Next thing you know, Grange is manipulating Doe into Bromley's bed as well. A final addition to the group is Professor Denton, a condescending academic who teaches philosophy and whom Grange hates because Denton won't call on him in class. In each succeeding scene, Grange pushes somebody's envelope further. Then Renel, the African-American gun dealer, arrives.
Kessler has a keen eye for psychological and emotional manipulation, and his early scenes crackle with bleak humor. Once firearms enter the equation, however, "Collision" spins out of control, devolving into dank melodrama. When four actors point guns directly at the audience in the tiny Rattlestick Playwrights Theater, the action is both queasily exploitative and distressingly banal and sentimental in its implicit indictment that is most definitely a "moral judgment."
Director David Fofi elicits strong work from his cast of five. James Kautz is a commanding Grange, radiating narcissism and navigating the character's twists and turns with clarity and precision. As Bromley, Nick Lawson adopts a curt, throwaway delivery that speaks loudly about the young man's inner vacuum while handily landing laughs. Anna Stromberg has the biggest transformation to make as Doe, and she accomplishes it confidently. Michael Cullen gives Professor Denton an appropriately curdled emptiness, and Craig "muMs" Grant leavens the stereotypical Renel with humanizing detail.
The Amoralists announced through its press agent that the show's tone had "evolved during the rehearsal process" and that the company was changing the play's designation from "black comedy" to "drama." I have no way of judging the extent of the changes made to effect that evolution (aside from a completely different—and much righter—ending in the script provided me), but I can't escape the feeling that the play wasn't improved by it. Perhaps postponement wasn't an option, but "Collision" would likely have been better served, forgive the expression, by sticking to its guns.
Presented by the Amoralists at Rattlestick Playwrights Theater, 224 Waverly Place, NYC. Jan. 22–Feb. 17. (212) 352-3101, (866) 811-4111, or www.theatermania.com.
Critic's Score: C