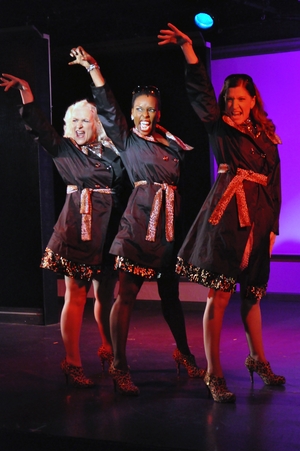 A cougartini is made of pomegranate juice and vanilla vodka. It is sugary and sticky, and the flavors attack rather than complement each other. The composition of this tacky cocktail is not unlike "Cougar the Musical," which tries too hard to mix the serious and the sweet. What should be an overtly campy ode to the societal convention of a "cougar"—an older woman who chases younger men—tries to be heartfelt and gets caught somewhere in between.
The musical opens with three middle-aged women in the house, hissing and scowling in the exact method one imagines a cougar, as in the animal, to act. This is how the show should have continued throughout. Instead, there is an attempt at seriousness as Lily, Clarity, and Mary-Marie go on journeys of self-realization. Lily is a twice-divorced empty nester who finds herself with lots of time on her hands and quashed dreams of becoming an actor. She befriends Mary-Marie, the owner of a cougar bar, who wears her prowling status like a badge and encourages all women to embrace their inner feline and growl. Clarity is a former investment banker who quit her job to pursue a career in women's studies.
Each of the leading ladies seems to be trapped in the show. It's almost as if they're in on the joke but can't share it. Catherine Porter is entirely likable as Lily, but Brenda Braxton's Clarity could use more fun. Babs Winn succeeds in creating the quintessential cougar in Mary-Marie, even if she is a full-blown stereotype. While the characters they create are relatable, the women should remember that they're in "Cougar the Musical." Let loose!
Danny Bernardy is the only actor who fully commits to the absurdity at hand; his rendition of a manicurist at a Korean nail spa steals the show. The problem lies with Lynne Taylor-Corbett's direction. She treats the piece as a musical of substance, when in reality it is pure farce. Book writer, lyricist, and composer Donna Moore's music is cheesy and simple, with feel-good numbers ranging from "I'm My Own Queen" to "Let's Talk About Me." Additional music was contributed by Mark Barkan, John Baxindine, Arnie Gross, Meryl Leppard, and Seth Lefferts.
Ultimately, "Cougar the Musical" knows its target audience. The theater was packed with women of a certain age having a ball. I can only hope that I'll be having that good of a time when I get there.
Presented by Cougar the Musical, in association with the StoryLine Project and Jared Hershkowitz, at St. Luke's Theatre, 308 W. 46th St., NYC. Opened Aug. 26 for an open run. Wed. and Fri., 8 p.m.; Sat. and Sun., 2 p.m. (212) 239-6200, (800) 432-7250, or www.telecharge.com. Casting by Carol Hanzel Casting. Photo by Bitten by a Zebra.
Critic's Score: C