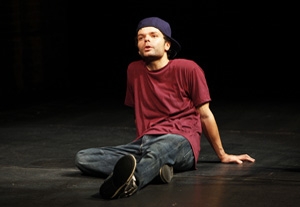 This is Back Stage's review of the show's original run at the Public Theater this past January.
Lemon Andersen's one-man show County of Kings: The Beautiful Struggle begins with a moment of jubilation as he recalls the night that he and his castmates won the Tony Award for their work in Def Poetry Jam. His excitement and coolly comic nonchalance captivate instantly, and his grip on theatregoers continues for nearly two hours in this lyrically moving piece that recounts his childhood and young adulthood in Brooklyn.
Anderson's narrative—a mix of hip-hop and poetic prose, English, and occasionally Spanish—is neither sentimental nor angry. Instead, it's a heartfelt and honest recounting of growing up with his heroin-addicted mother, her painful decline and eventual death. As he tells his story, he not only infuses it with humor, he also becomes, with precision and specificity, a number of other characters. Perhaps most amusing is his portrayal of a partially blind busybody woman in the apartment complex where he grew up. 
Not everything in Lemon's biography is grim. His recounting of a teenage romance charms thoroughly, even if it is set against the harsh realities of his youthful existence, and when his tale turns to drug dealing and prison, he finds comedy in unlikely places and never succumbs to maudlin self-pity or self-aggrandizement. 
Elise Thoron, who's also credited with developing it, has directed County of Kings with a sure hand on a nearly bare stage (designers Douglas Stein and Peter Ksander provide a striking abstract painting as a focal point), and the production elegantly builds to the moment when Andersen is poised to explore his ability to not only write poetry but also perform. The stakes are high, and even though audiences know that Lemon will ultimately succeed, they should not be surprised if they find themselves holding their breaths and silently cheering this winning young man on to his initial success.   
Presented by Spike Lee, Culture Project, Steve Colman, Jayson Jackson, and Tom Wirtshafter in association with the Public Theater at the Public Theater, 425 Lafayette St., NYC. Oct. 12–Nov. 8. Tue., 7 p.m.; Wed.–Sat., 8 p.m.; Sat. and Sun., 3 p.m. (No performance Tue., Oct. 13.) (212) 967-7555 or www.publictheater.org.