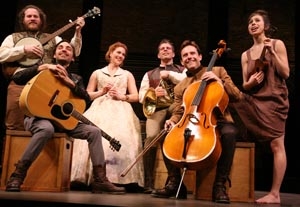 This is Back Stage's review of the show's original run at the New Victory Theatre in January.
If the term "mash-up" had existed in Elizabethan England, it would certainly have been applied to Shakespeare's "Cymbeline," which contains elements of many of the Bard's tragedies and even a couple of his comedies. Shakespeare even insists on providing happy endings for all of the play's "good" characters. Directors and performers Noah Brody and Ben Steinfeld have taken an almost story-theater approach, but the staging and production prove too uneven to be considered ultimately satisfying.
Perhaps most notable is Jessie Austrian's immaculately layered turn as Imogen, who has married the commoner Posthumus (Brody) against the wishes of her father, England's King Cymbeline (Andy Grotelueschen), and his queen (Emily Young). As Imogen copes with her husband's banishment, the unwanted advances of her moronic stepbrother (also played by Grotelueschen), and the attentions of Iachimo (Steinfeld), an Italian who comes to test her virtue as part of a wager with the banished Posthumus, Austrian delivers a performance that's by turns spunky, intelligent, infinitely graceful, comic, and, above all else, beautifully spoken.
Equally impressive is Steinfeld's rendering of Iachimo. He underplays the character's oiliness, instead making him enticingly suave and almost irresistible. A third standout is Paul L. Coffey, who's been quadruple-cast, offering impressively delineated characterizations of Posthumus' loyal servant, another Italian noble, and one of Imogen's long-lost brothers, whom she meets during her own self-enforced exile from court.
Less successful are Brody, Grotelueschen, and Young, all of whom give sadly two-dimensional, almost cartoonish performances. Their work does, however, serve one purpose: It anticipates the overly (and annoyingly) comic approach that the directors have taken to the play's conclusion. The reading, though a valid one, completely undermines the genuine emotion that the play and Austrian's performance inspire. It also diminishes the impact of some of the imaginative work the directors have done in bringing the sweeping play to life in scenic designer Jean-Guy Lecat's elegantly spare environment, beautifully lit by designer Tim Cryan.
Presented by Theatre for a New Audience, Scott Morfee, Jean Doumanian, and Tom Wirtshafter at the Barrow Street Theatre, 27 Barrow St., NYC. Sept. 8–Dec. 31. Tue.–Sun., 7:30 p.m.; Sat. and Sun., 2:30 p.m. (No performances Sat., Oct. 8, and Sun., Oct. 9.) (212) 868-4444 or www.smarttix.com.