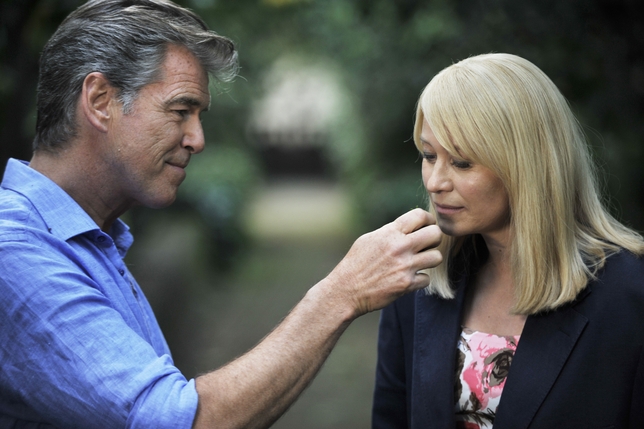 It wasn't too long ago that Broadway audiences were enjoying Horton Foote's portrait of a Texas family's struggles with its history and future in "Dividing the Estate," a production that originated at Primary Stages. The company has continued to examine the subsequently deceased dramatist's writing this season, with "Harrison, TX," a trio of sepia-toned one-acts that turned the clock back to the first half of the 20th century. Now, with "Him," by the great playwright's daughter Daisy Foote, Primary Stages has expanded its commitment to the family's oeuvre. Unfortunately, the younger scribe's labored, sometimes clichéd dramedy suffers when placed alongside her father's gentler, more nuanced work.
Set in Tremont, N.H., in 2003, just as America's housing boom is about to crest, "Him" centers on three siblings raised by a distant and seemingly uncaring father. He now lies dying—offstage—in their home attached to the family store, which is on the brink of closure because of the arrival of big chain stores in the region. The clan's reluctant, resentful head is 50-something Pauline (played by Daisy's sister, Hallie Foote), whose ideas for making the family business competitive have gone ignored. Her embitterment is fed by her foiled dream of being well-heeled and her disappointments, which include a miscarriage in her younger days. Pauline also has to contend with looking after her middle sibling, Farley (Adam LeFevre), who at 51 has the mental capabilities of a small child, and Henry (Tim Hopper), the younger brother, a frustrated, pill-popping gay man who has also been living at home ever since he made a failed stab at college in the 1970s.
The stakes for everyone are unconvincingly raised when a windfall means that all of Pauline's hopes might be realized and when Farley falls in love with Louise (Adina Verson), a similarly challenged new neighbor, whom he's ultimately compelled to marry because of her pregnancy. Interspersed with the action are poetic monologues from the patriarch, which are delivered by the three actors playing his children and give fleeting insight into their characters' pasts and the father's feelings about his family and life.
It doesn't help that it takes a while to understand whose voice is being heard during these flights of otherworldly lyricism. For instance, one early section delivered by Pauline sounds as if it might be an interior monologue from a married man for whom Henry pines. Additionally, despite LeFevre's and Verson's detailed and carefully executed performances, there are times when the playwright's depiction of developmentally disabled adults borders on the condescendingly comic.
Under the direction of Evan Yionoulis, both Hallie Foote and Hopper deliver graceful performances, capturing their characters' determined grit and delicacy, and it is remarkable to watch how each actor transforms into the titular character within a breath. But despite the cast's fine work, "Him" fails intellectually and emotionally, leaving us curiously unmoved at its ironic conclusion.
Presented by Primary Stages at 59E59 Theatres, 59 E. 59th St., NYC. Oct. 9–28. (212) 279-4200, www.ticketcentral.com, or www.primarystages.com. Casting by Stephanie Klapper Casting.
Critic's Score: C+