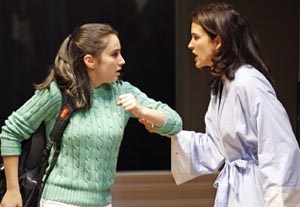 No, the weird, oblique title is never explained, much less hyphenated. I suspect that in earlier versions playwright Carole Gaunt overtly linked the mythical and metaphorical creature to one of the treasured drawings made by the deceased young daughter who seems to be at the heart of this 90-minute play. But what remains on stage is oblique and a little weird in the telling.
Ostensibly the narrow story of the surviving three-fourths of yet another dysfunctional family,
Dance of the Seven Headed Mouse
reaches for the broader themes of inherited addiction, parental neglect, and the salvation of friendship. Four strong performances and some topflight production values cannot disguise the gaping hole at the center of the play: the long absence from the stage of the family's workaholic father (Joseph Adams), who appears only in the first and last scenes. His extended absence works as a metaphor, but as drama it's sorely lacking. And we miss Adams' solid acting in the role.
His character, a self-made, world-renowned architect originally from Cincinnati, is married to a self-described shanty Irish-American who has risen to become a top fundraiser for New York charities and politicians. They live on upper Fifth Avenue with their two teenage daughters. The wife is played by the equally estimable Laura Bonarrigo, who has to descend rather quickly from the top of her character's game into a pill-addicted, alcoholic, eternally bathrobed, possibly suicidal shrew—and stay that way for the remaining seven-eighths of the play.
The reason for her rapid descent is a car crash that kills her clearly favored daughter. The surviving daughter (beautifully played by Lauren Currie Lewis) quits her tony boarding school and comes home to care for her mother. The girl's roommate, a scholarship student, visits to try to talk her into returning to school. Molly Ephraim is compelling in this role, representing the only voice of reason. There is a fifth person on stage, a silent young ballerina (Maya Simkowitz) who floats through the action as a kind of ghost of the dead girl. Unfortunately, all she does is distract from the interaction among the live characters.
Troy Hourie's two-room set is a functional and realistic design for its denizens, Victoria Gaunt's contemporary costumes effectively establish character, and the lighting design by D.M. Wood and sound design by Daniel Erdberg, including otherwise uncredited incidental music, lend appropriate ambience to the proceedings. Director Christopher McElroen has done nothing wrong, unless he cut some dialogue or came up with the idea for the ghost of ballerina past.
Presented by Hungry Hillat the Beckett Theatre, 410 W. 42nd St
.,
NYC
.
June 23
–
July 25. Tue
.,
7 p.m
.;
Wed
.–
Sat
.,
8 p.m
.;
Sat. and Sun
.,
2 p.m
. (
No performance Sat
.,
July 4, 8 p.m
.;
additional performance Sun
.,
July 5, 7 p.m
.)
(
212
)
279-4200 or www.ticketcentral.com
.
Casting by Judy Henderson
.