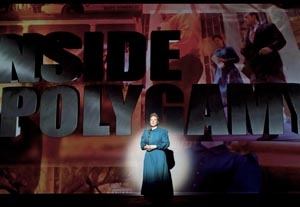 I was looking forward to composer Nico Muhly and librettist Stephen Karam's new opera, "Dark Sisters," even before I took in Karam's excellent play "Sons of the Prophet," currently running in an Off-Broadway production from Roundabout Theatre Company. Another Muhly opera, "Two Boys," with a libretto by Craig Lucas and direction by Bartlett Sher, opened earlier this year in London to interesting notices and will be coming to the Metropolitan Opera, which commissioned it. What's more, Muhly contributed the fine incidental music to "Prophet." Best of all, the subject matter of "Dark Sisters"—the state government removes the children of members of a fundamentalist polygamist Mormon sect into custody to protect them from alleged sexual abuse—is full of dramatic possibilities. So it's with great disappointment that I have to report that "Dark Sisters" is an awfully wan piece of work.
Act 1 is set in the sect's compound and focuses on tensions among the Prophet's five wives as they wait for him to decide upon the family's response to the government's action. At the center of the drama is Eliza, the fifth wife, who harbors doubts that her husband, whom she was forced to marry, is really a prophet. Eliza has visions of her teenage daughter, Lucinda, making her the only wife who seems particularly anguished about her missing child. (A choral opening in which the women call the names of their children is far too generic to have much effect.) When the mentally disturbed Ruth, whose two children died young, hands Eliza a letter revealing that the Prophet is planning to give Lucinda in marriage to a 60-something, much-married man, Eliza's unhappiness crystallizes, and she devises a plan to tell the truth during an interview the Prophet has arranged for the five wives on national TV. Act 2 consists of that interview and its aftermath, which includes Ruth's suicide, the court-ordered return of the children, and Eliza's expulsion from the compound, unaccompanied by Lucinda, who cruelly rejects her mother.
Karam provides very little incident, particularly in Act 1, and though he has made a stab at character differentiation for the women, it's awfully rudimentary. Muhly seems more interested in pretty vocal and orchestral textures than in the drama itself. When he does employ his score for dramatic effect, as in a figure underscoring the working of Zina's sewing machine, the device is obvious and ill-utilized. There's very little arresting solo vocal writing, with a particular letdown being Ruth's Act 2 pre-suicide aria, which also suffers from an opaque text and strands poor Eve Gigliotti center stage for what seems like an eternity, as an unilluminating orchestral passage plays and plays while the actor is raised slowly in the air on a platform as if she were about to launch into "Defying Gravity."
The show is confidently conducted by Neal Goren and uniformly well sung by the seven-person cast, but there's not a lot of interesting acting happening. Kevin Burdette makes the Prophet duly but dully dominant, while his TV reporter errs too often on the side of obvious smarm. Gigliotti manages to inject some intensity through Ruth's struggle with her demons, and Caitlin Lynch endows Eliza with spine, though she can't do much to make the abrupt ending resonate in the way it's intended to.
Rebecca Taichman's deliberate, almost meditative direction may be what the authors wanted, but it doesn't do much to energize the proceedings. The impressive physical production features arresting lighting from Donald Holder, simple but appropriate costumes from Miranda Hoffman, and stunning video work from Leo Warner and Mark Grimmer. Warner's empty, abstract set, however, doesn't help either Taichmann's staging or Karam's lack of character specificity.
I walked away thinking that the talented Muhly and Karam might have been so intent on being fair to both sides that they unintentionally drained their opera of drama. Whatever the reason, "Dark Sisters" is too small and safe to make much of an impression.
Presented by Gotham Chamber Opera and Music-Theatre Group at the Gerald W. Lynch Theater at John Jay College, 899 10th Ave., NYC. Nov. 11–19. Remaining performances: Tue., Nov. 1; Thu., Nov. 17; and Sat., Nov. 19, 8 p.m. (212) 279-4200 or www.ticketcentral.com.