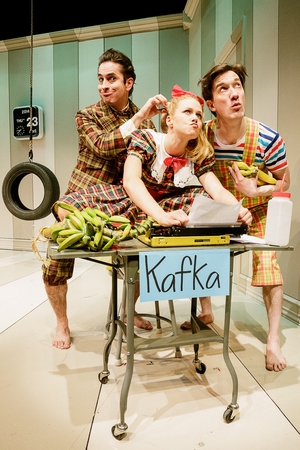 Some of the references may be slightly dated, but the 20th-anniversary revival of "All in the Timing" is as fresh and funny as it was on the day it premiered. David Ives' program of six one-acts humorously examining the nature of time, language, love, and literature gets a sparkling new staging from John Rando courtesy of Primary Stages, the company that also presented its debut. The advent of cell phones and the fading of a few celebrity names are the only elements to indicate that these witty pieces are two decades old. The cleverness of each inventive premise is still sharp and cutting.
The evening starts with "Sure Thing," an adorable curtain raiser in which a couple goes through all the possible variations of meeting cute. "Words, Words, Words" depicts a trio of chimps banging away at typewriters in the proverbial attempt to produce Shakespeare's "Hamlet." The first act concludes with the highlight of the collection, "The Universal Language," focusing on a charming con man teaching a stuttering young woman his nonsensical, invented tongue, which is composed of sound-alike phrases. For example, "Howard Johnson" is "How are you?" and "Velcro" is "Welcome." The puns and gags flow like a waterfall of hilarity as the woman gains confidence and the teacher warms to his subject.
The second act consists of a parody of avant-garde composer Philip Glass' minimalism, an attack on the dysfunctional service in second-tier cities, and a rumination on mortality set on the last day of assassinated revolutionary leader Leon Trotsky's life. That the latter is both moving and wildly funny proves a testament to Ives' considerable ability.
Rando wraps each of these bite-size treats in an attractive package—kudos to Beowulf Boritt's economical, clock-studded set and Jason Lyons' spot-on lighting—and presents them to us with speed and flair. Even the set changes are fun to watch.
The five-member cast skillfully juggles Ives' witticisms while maintaining believable characterizations. Matthew Saldivar deftly delivers an intellectual monkey and a wistfully philosophical Trotsky. Liv Rooth is sweetly eager as the young woman in "Sure Thing" and wry as Mrs. Trotsky. Jenn Harris makes a miraculous transformation as the shy student blossoming under the influence of the gibberish language and is delightfully deadpan as a bored waitress. Eric Clem only has a few bits, but he milks them for all they're worth. The standout is Carson Elrod. Whether playing an anxious potential boyfriend, an enraged chimp, or a verbally dexterous instructor, Elrod makes every gesture and line land for maximum effect. It's a textbook lesson in—appropriately enough—timing.
Presented by Primary Stages, in association with Jamie deRoy, at 59E59 Theaters, 59 E. 59th St., NYC. Feb. 12–April 28. (212) 279-4200 or www.ticketcentral.com. Casting by Calleri Casting.
Critic's Grade: A