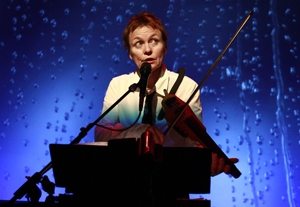 Plays about dreams are as common as Dalís in dorm rooms. Everybody dreams, artists must say to themselves, but no one dreams like me. Most attempts to put dreams on stage, however, are disingenuous excuses to avoid dramatic cohesion or the chore of writing good dialogue to get inside a character's head. What saves Laurie Anderson's "Delusion," which probes the scattered, playful wanderings of the human subconscious, from either of these traps is Anderson's ability to keep the whole in view. Though the work is structured like vaudeville—an unconnected series of stories and musical bits, with Anderson as emcee and star—it also has the unified feel of a concerto. The combination enchants rather than disorients. With Anderson at the helm, watching "Delusion" is like riding an airplane through a cloudless sky at sunset without a seat belt.
Much of the music of "Delusion" is borrowed from or in the same style as Anderson's latest album, "Homeland," which is more haunting and less pop-inflected than her previous work. When Anderson plays a note on her small violin, a cacophonous sound fills the BAM Harvey Theater, supported by a rich surround-sound system and two accompanying live musicians (Eyvind Kang on viola, Colin Stetson on horns). Surrounded by an elegant string of microphones and a series of small screens, and with a giant screen filling the upstage wall, Anderson feels at times like the ancient priestess of Delphi. Her small frame channels giant forces, chthonic and barely tamed, and the words she offers bear the cryptic authority of oracles.
But Anderson is also part clown, dressed in the white collared shirt, thin black tie, and dark slacks of a headliner from Chaplin's heyday, or Judy Garland in her "Swanee" drag. Her short monologues range from the comic (being interviewed on a talk show about a book she doesn't remember writing) to the picaresque (a Russian mystic who claims the moon is made of the scattered particles of our loved and lost). Abandoned landscapes return to focus again and again—ghost ships, the lunar surface, the Icelandic countryside—to serve as correlatives for the undiscovered landscape of death, specifically that of Anderson's mother, whose final hours are movingly recounted in disjointed pieces.
"Delusion" flits between earnestness and irony, sometimes in the space of a single line, as the faux gravity of Anderson's delivery disarms and keeps both modes in play. Part of her charisma is that she plays coy with her audience, offering winks, sidelong glances, and a mediating microphone rather than presence and exposure. It's not that she's speaking to us or sharing her soul; it's that she's creating an audiovisual event as we look on, an event that she enjoys, between making adjustments on her laptop and audio board, along with us. (In an encore, Anderson plays an unrelated solo piece in front of her electronic equipment, a rare moment of communion with her audience that underscores the centrality of distancing devices in "Delusion.")
There are many moments worth pocketing for use in one's own reveries; in my pocket sits one of Anderson's rare musical covers: "Twinkle Twinkle Little Star." The childhood tune makes a sneaky cameo as one of Anderson's many "stories" as a constellation of pin lights is illuminated on the stage floor. It is the simplest of stage effects, but it re-enlivens the wonder of a long, unhurried look at the night sky. Except in Anderson's hands, the stars become gossamer, as divine and ungraspable as a cloud in a dream.

Presented by Brooklyn Academy of Music as part of BAM 2010 Next Wave Festival at the BAM Harvey Theater, 651 Fulton St., NYC. Sep. 21–Oct. 3. Tue.–Sat., 7:30 p.m.; Sun., 3 p.m. (718) 636-4100 or www.bam.org.