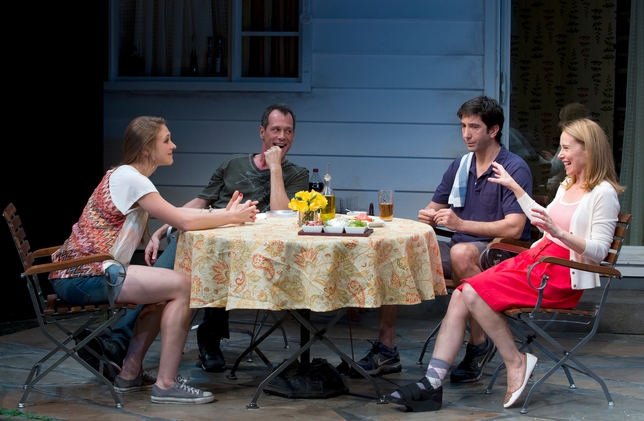 Lisa D'Amour's "Detroit" gets under your skin and stays there. This disquieting comedy-drama speaks specifically about its characters' lives while also addressing the state of American society in the wake of the Great Recession. In director Anne Kauffman's confident, probing hands, D'Amour's heightened naturalism grows in intensity as the placid suburban surface crumbles. By the time we reach the explosive climax, we're steeped in symbolism and on the edges of the absurd. "Detroit" has an exhilaratingly original perspective and voice that stamp D'Amour as a playwright to be reckoned with.
The simple story involves the growing friendship between two neighboring couples living in a "first ring" suburb outside a major but nameless (despite the title) American city. Middle-class Ben and Mary are under financial pressure because he lost his position as a loan officer in a bank. Her stressful paralegal job supports them as he attempts to start up a financial-advice business on the Web. White trash Kenny and Sharon, who are fresh out of drug rehab, have moved into the house next door, which remains empty due to their complete lack of funds. Ben and Mary aren't happy with who they are, while Kenny and Sharon aren't convinced that they can become the people they want to be. The bonding process is a prickly one as the four grope their way to reinvention.
Kauffman has assembled a splendid cast that's utterly in sync with D'Amour's writing, especially her idiosyncratic take on everyday speech. Amy Ryan is a wonderfully compulsive Mary, a bundle of nerves medicated by vodka. Ryan is particularly impressive with a drunken late-night rant about Ben that Mary delivers to Sharon on her doorstep after fleeing a marital fight. David Schwimmer's Ben combines a genuine love for his wife with the curdling bewilderment of an average Joe who can't quite figure out what's happened to him. Darren Pettie is a sexy but dangerous Kenny, one minute warmly welcoming, the next smolderingly resentful, always harboring a hint of contempt. Brightly anxious, Sarah Sokolovic's Sharon is a rambunctious little girl trying hard to be good who you just know doesn't really have it in her. The redoubtable John Cullum gets a cameo appearance in the play's coda as Kenny's great-uncle, the owner of his and Sharon's house. Cullum takes an obviously symbolic monologue and grounds it in such human truth that the device lands with a wallop.
Set designer Louisa Thompson makes good use of a revolving stage to take us with dispatch to the front and back yards of both homes, and her eye for telling detail is matched by that of costume designer Kaye Voyce. Mark Barton's smart lighting reinforces the play's journey from realism to the absurd, while Matt Tierney's inspired soundscape is practically another character.
I liked D'Amour's play when I saw it. And then it kept insistently rattling around in my head for days afterward. Because I see a lot of theater, that doesn't happen to me all that much. Don't miss "Detroit." It's special.
Presented by and at Playwrights Horizons, 416 W. 42nd St., NYC. Sept. 18–Oct. 7 and Oct. 16-28. (212) 279-4200 or www.ticketcentral.com. Casting by Alaine Alldaffer.
Critic's Score: A