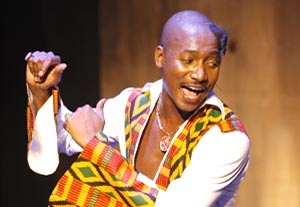 For you Hitchcock buffs out there, it should probably be said immediately that "Dial 'N' for Negress" has absolutely nothing to do with "Dial M for Murder." Rather, this frequently entertaining but still unsatisfying musical takes place in Soulsville, a community in deep trouble. Everybody's drugged out, pushing, pimping, or whoring. It needs a superhero to straighten things out.
Luckily, the guy called Negress—or sometimes Br'er Negress—has just been released from jail, where he's been incarcerated on fraudulent charges. Negress, despite his superpower—his gaze paralyzes evildoers—is a little unsure of himself because of his effeminate manner, emphasized by tight jeans, spike-heeled white boots, and forelock hanging cutely on his forehead from his otherwise clean-shaven head. But he's brought into the fray by the urgings of the local preacher and immediately overcomes the pimp and Mafia drug dealers. As the first act ends, Negress has the town back on track and is about to open the Soulsville Community Center and Nubian Resource Foundation.
But making sure there's a second act, a pimp, a Mafia godfather, and a corrupt white cop plot to destroy Negress. Still, all ends happily, with Negress demonstrating as he cavorts with his ex-prostitute female assistants that despite his fey persona he is quite hetero.
Kevin Smith Kirkwood makes the conflicted Negress an appealing character, gaining points for his singing and hip-swiveling dancing. The show, briskly directed by Jake Hirzel, has an abundant score that travels easily from rap to soul, with lyrics by Travis Kramer, who also wrote the book, and music by Tom Oster and Kirkwood. The prerecorded electronically created accompaniment is filled with catchy hooks, and Jennifer L. Mudge has supplied considerable booty-shaking choreography, performed with admirable dedication by the 12-person cast.
But the numbers rarely build to anything near galvanizing. The show always seems to be charging up without creating any real electricity. The script, said to be inspired by the blaxploitation movies a few decades back, has a worthy message in its call for black pride and individual self-esteem, but it's too simplistic and cartoonlike to be compelling.
Presented by Jake Hirzel at the Clurman Theatre, 410 W. 42nd St
.,
NYC. Sept. 11
–
26. Mon
.,
Wed
.–
Fri
.,
8 p.m
.;
Sat
.,
2 and 8 p.m
. (
Additional performance Tue
.,
Sept. 22, 7 p.m
.) (
212
)
279-4200 or www.ticketcentral.com
.