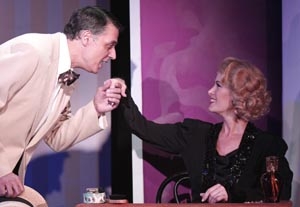 It takes guts to attempt to play such legendary entertainers as Marlene Dietrich and Maurice Chevalier, particularly in a vest-pocket Off-Broadway production with almost no production values, so kudos to
Jodi Stevens
and
Robert Cuccioli
for their cojones. Unfortunately, saddled with Jerry Mayer's trite script and Pamela Hall's hokey direction, neither actor is able to convince. "Dietrich & Chevalier: The Musical" is strictly for those looking for a quick nostalgia fix of familiar songs and surface imitations. Everyone else will be wise to steer clear of this unimaginative, thuddingly obvious jukebox bio-musical.
The story is told in flashback, beginning with Chevalier's trial by the French Resistance for collaboration with the Nazis in World War II. Dietrich is doing a phone interview with investigators as a character witness and thinks back to their introduction on the Paramount lot. They meet cute, thanks to adjoining dressing rooms (she can't learn her lines due to his loud singing), and no sooner have they met than Dietrich is singing "Falling in Love Again" to herself as a book song. (Yes, it's that kind of show.) Though both stars are married, they commence an affair, which founders on Dietrich's casual and open promiscuity. Remaining friends, their lives cross at random moments until the war separates them, with Chevalier stuck in France while Dietrich renounces her German citizenship and tirelessly entertains American troops. Chevalier's postwar predicament, due to the fact that he sang in occupied Paris because the Germans threatened his Jewish second wife and her parents, brings the former lovers full circle.
Mayer's creaky, name-dropping book is full of baldly expositional lines ("I saw the headline in Variety. 'Chevalier is the new Valentino,' " Dietrich tells him) and unbelievable situations (in order to get a cheap laugh, Chevalier must be ignorant of "The Chocolate Soldier," an international musical stage hit). Musical stager Gene Castle knows his way around the stars' performing mannerisms and routines, but it all seems pasted on rather than springing from within. Cuccioli, a broodingly macho leading man never known for his light touch, scampers about and pops his eyes to little avail, while Stevens' open American nature bleeds through all attempts at Teutonic sultriness.
Donald Corren
rounds out the company as "Eight Fascinating Characters," according to the program—among them a French maitre d', Hollywood producer
Irving Thalberg
, and Germany's foreign minister
Joachim Von Ribbentrop
—but none of them are, despite Corren's earnest attempts at differentiation.
The chintzy piano-only accompaniment is further hampered by musical director Ken Lundie's propensity for hitting wrong notes, while Christopher Jensen's "multimedia design" amounts to a crude slideshow with awkward visual effects that occasionally engender winces (as when the Nazis enter Paris at the Act 1 curtain). There are also unfortunate anachronisms, such as using Cole Porter's "I Love Paris" in a variety of minor keys to forebodingly underscore the city's occupation (the song wasn't written until 1953).
It's disheartening to watch talented performers like Cuccioli, Stevens, and Corren struggling in such a substandard show. One can only wish them, as the Irving Berlin song goes, better luck next time. 
Presented by Edmund Gaynes in association with Emily Bettman at St. Luke's Theatre, 308 W. 46th St., NYC. Opened June 20 for an open run. Wed. and Sat., 2 p.m.; Sun., 2 and 7 p.m. (212) 239-6200, (800) 432-7250, or www.telecharge.com. Casting by Moss Kale Anastasi.