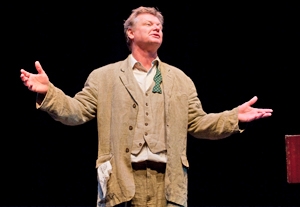 The brief, troubled life of the Welsh-born poet Dylan Thomas has provided intermittently compelling stage fodder at least since Alec Guinness won a Tony playing him in the full-length Sidney Michaels play "Dylan" on Broadway in 1964. (Kate Reid played his wife, Caitlin, mostly in back of him, just as she was in real life; she was only his equal in drinking.)
The go-to solo show about Thomas for some years now has been "Do Not Go Gentle," by the late Welsh playwright-director Leon Pownall, who also played Thomas in the early productions. Some years ago, Pownall refashioned the piece for Geraint Wyn Davies, a justly acclaimed Welsh actor. Pownall also directed Davies in the play, at the Stratford Canada Shakespeare Festival and around the U.S. That incarnation played Off-Off-Broadway in the spring of 2005. I remember liking it better than I do the current revival, if one can call it that. I'm not sure if it's the absence of Pownall, who died in 2006, from the proceedings—Pownall's original direction has been "realized" by Dean Gabourie, according to the producers—or perhaps it's that Davies seems a tad older than the admittedly dissipated Thomas was at 39, when he died. Or maybe it's that the actor has played the part too much, or that Thomas' self-proclaimed professional Welshman act and "calculated vulnerability" that made him so popular in England and America have finally worn thin.
I do know that for this Off-Broadway production, Davies seems at times distracted, and at the 10th preview of a play he's done countless times before, he was still reading some of his first-act narrative from a script on a lectern. (The lectern is legitimately on stage as a prop for the reading of Thomas' title poem.) The Thomas-in-purgatory device—in which the poet, having just died, speaks to an unknown audience—which seemed so fresh in 2005, now seems less so. And what is he still doing in purgatory in a play whose time is given as "the present" anyway? The actor's movements between the lectern and his writing desk covered with liquor bottles seems less sure than they did, even given Thomas' lack of sobriety.
Worst of all, the play now seems overlong and awkwardly paced, one act disguised as two, running an hour and a half total, with an unnecessary intermission unevenly dividing the halves. Some padding protrudes, and repetition is rampant even for a drunk. We get that Thomas was in awe of Shakespeare as the greatest writer ever, but the 10-minute riff on the Bard's greatest hits—replete with Davies/Thomas wearing an Elizabethan ruff for emphasis—at the start of the 30-minute Act 2 is shameless puffing up. Twice he says, "They loved me to death in America" and that he died in New York. Neither time, oddly, does he mention that it was at the Hotel Chelsea, which would be of more than passing interest to local audiences.
When Thomas talks to an unseen Caitlin at the back of the theater, the one-man format falters badly, and the nonchronological narrative sometimes seems purposeless. Yet Thomas' words and stories, true or not, can still be amusing and even compelling. He was never that good at insights.


Presented by MRK Productions at the Clurman Theatre, 410 W. 42nd St., NYC. Dec. 6–Jan. 10: Wed.–Fri., 8 p.m.; Sat., 2 and 8 p.m.; Sun., 3 p.m. (No performances Thu., Dec. 24 and 31, and Fri., Dec. 25 and Jan. 1; additional performances Tue., Dec. 22 and 29, 8 p.m.) (212) 279-4200 or www.ticketcentral.com.