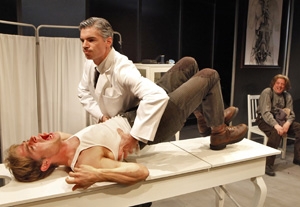 Harry Reid and Nancy Pelosi, please note: With this production of "Doctor Knock or the Triumph of Medicine," the always enterprising Mint Theater probably makes the most entertaining contribution to the current health-care debate so far. This classic French comedy by Jules Romains, first presented in 1923, is a seemingly gentle satire of the medical profession that by curtain's close has all the sharpness of a hypodermic. Written well before the advent of penicillin and other medical marvels, the play still remains remarkably topical. Romains takes aim at the medical profession with double barrels via the delineation of two doctors: The elder one commits the sin of omission, while the younger's sin is excess. As such, the play is a morality fable ripe for 21st-century America, a serious pill that's laughter-coated and easy to take. Gus Kaikkonen is responsible for the straightforward translation and ably directs a first-rate cast in this clean-cut, pleasurable production.
On the road to the sleepy town of St. Maurice, we meet Dr. Knock (Thomas M. Hammond)—and it's pronounced via the French as "Ker-nock"—and Dr. Parpalaid (Patrick Husted) in the latter's eccentric old motor car, a wondrous machine as conceived by set designer Charles Morgan. Knock has purchased Parpalaid's practice, and their two distinct views on medicine soon become apparent. Parpalaid is guilty of taking health for granted, as with his cure for insomnia: "Three pages of Proust every evening." For Knock, it's a case of taking preventative medicine to a new extreme: "As soon as I meet someone, I feel a diagnosis coming on." In the second act, Knock, the energetic idealist, gets down to business as local characters pour in and the doctor sets out to prove to them that "the healthy are merely closeted invalids." The final act, three months later, shows what Knock hath wrought, with Parpalaid returning to observe the changes.
Hammond's well-spoken Knock is afire with enthusiastic charm, making the extreme seem perfectly reasonable, while Husted's convincingly bluff Parpalaid is a sad reminder of doctors you have known. The physicians' helpers here are a versatile supporting cast who, through multiple roles, indicate a whole town. Especially memorable are Patti Perkins' rich lady, Scott Barrow's comic teacher, Jennifer Harmon's Madame Remy, and Chris Mixon's pharmacist and town crier.
When Knock's reign over St. Maurice is in full glory, we are asked to conjure a lasting image: At a specific hour, all over town, there should be taking place a second reading of all rectal thermometers.
Presented by and at Mint Theater Company, 311 W. 43rd St., 3rd floor, NYC. May 10–June 6. Tue.–Thu., 7 p.m.; Fri. and Sat., 8 p.m.; Sat. and Sun., 2 p.m. (No performance Tue., May 11.) (212) 315-0231 or
www.minttheater.org
. Casting by Stuart Howard, Amy Schecter, and Paul Hardt.