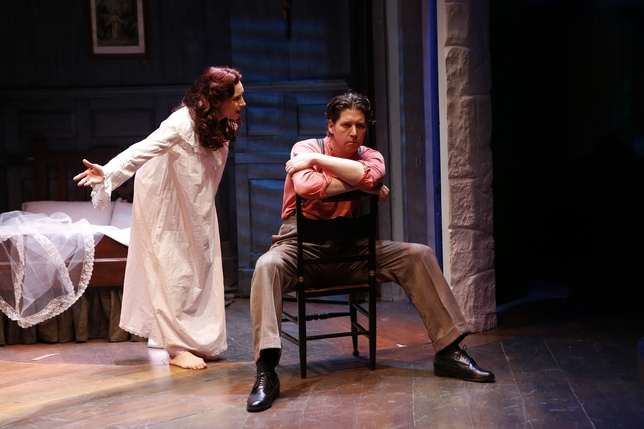 The Irish Repertory Theatre, which last summer tinkered unnecessarily with "New Girl in Town," has done it again. It has revived an old second-rank musical that's nevertheless fondly remembered by enthusiasts and meddled with it so much that what's onstage is scarcely recognizable. "Donnybrook!," the 1961 Broadway adaptation of the John Ford film "The Quiet Man," boasts a lilting Johnny Burke score whose cast album has long made devotees curious about what happens between the songs. Seeing this "Donnybrook!," we're none the wiser.
Director Charlotte Moore has cut a third of the score, inserted some traditional Irish ballads and two not-very-contextual standards by Burke and James Van Heusen, and trimmed some of what remains. "Sad Was the Day," one of those 50 songs Sondheim some years back said he wished he'd written, is missing a verse or two, and Kathy Fitzgerald, as a widow who doesn't much regret her loss, mugs her way through the show rather than giving it the wry dry-martini rendering it requires. (Later, in her two duets with Samuel Cohen's conniving matchmaker, she thankfully calms down, and some actual musical comedy magic is conjured.) John Bell, conducting a mellifluous ensemble of piano, harp, violin, and cello, tends to rush tempos, but not as much as Moore, whose staging too often gets stuck on fastforward.
I can't say how much of Robert E. McEnroe's book remains, but what traditional 1961 musical clocked in at less than two hours? A paring knife has clearly been taken to it. Dialogue lurches rather than naturally flows into song, which doesn't always spring organically from the dialogue or segue logically into what follows. An original tune by Richard Farrelly, "Innisfree," launches the evening, delivered by two characters who are barely heard from again. "Who is this wonderful someone?" sings our hero, ex-boxer Sean Enright (James Barbour), when he's known the answer for an act and a half. When you cut a book to its bare essentials or beyond, yes, you speed up the action to suit an attention deficit–prone modern audience, but you also eliminate the ballast of character points and natural stage rhythms that allow us to care about these people.
As long as Barbour is wrapping his sturdy unmiked baritone around a lush Burke ballad, or his appealing leading lady, Jenny Powers, is radiantly delivering "He Makes Me Feel I'm Lovely," we're happy. And the townspeople of Innisfree are a fine bunch, enthusiastically exclaiming go-on-with-your-blarney sentiments and executing Barry McNabb's rather clunky choreography. Fans of golden age musical comedy will probably find things to enjoy in this frantic evening, thanks mostly to the composer-lyricist. But they should be warned that what they're seeing isn't really "Donnybrook!"
Presented by and at the Irish Repertory Theatre, 132 W. 22nd St., NYC. Feb. 17–April 28. (212) 727-2737 or www.irishrep.org. Casting by Deborah Brown.
Critic's Score: C+