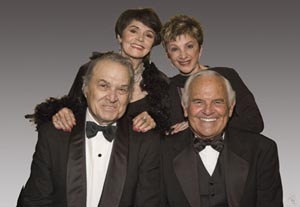 A few mild chuckles is the most you can expect from
Don't Leave It All to Your Children
, a harmless 90-minute musical revue about senior citizens, playing matinees and Saturday nights at the Actors Temple.
The venue is appropriate, since the show, written and directed by Saul Ilson, has the feel of an amateur night put together by congregants of a suburban place of worship. The jokes are so tired, the ladies sitting next to me uttered the punch lines before the actors. The predictable songs depict clichéd feisty golden agers living life to the fullest and are loaded with off-rhymes—"headaches" and "paramedics," "afterthought" and "hot-to-trot." An entire number consists of a laundry list of once-youthful but now-aging celebrities. The intention is to make the audience feel great about sharing an age bracket with the cream of Hollywood, but is anyone really astonished that Sally Field is drawing Social Security? Obviously, the author hasn't been watching
Brothers and Sisters
.
The four-person cast of showbiz vets is a mixed bag. Ronnie Schell strains to put across nagging-wife and aches-and-pains material that was creaky when he was a fixture on '60s sitcoms like
That Girl
and
Gomer Pyle
. Steve Rossi, half of the comedy team Allen & Rossi, still has a powerful voice but struggles to get through his scenes without cracking himself up.
The feminine half of this quartet fares much better. Marcia Rodd is professionalism personified and gives her numbers sparkle and a smile. Barbara Minkus invests her thin characters with a story and emotion. She turns a silly specialty number about a widow on a singles cruise into a little play by seriously pursuing the woman's goal of finding a husband and not playing it for laughs. A simple ditty about a granddaughter's Valentine's Day card segues into a moving reminiscence of an entire life. Even though the song sounds like a Hallmark card, I nearly choked up because Minkus put so much into it. She is the bright spot in this otherwise routine revue.
Presented by Sausau Productionsat the Actors Temple, 339 W. 47th St
.,
NYC
.
Opened May 20 for an open run. Wed
.,
Sat
.,
and Sun
.,
3 p.m
.;
Sat
.,
8 p.m
.  (
212
)
239-6200 or www.telecharge.com
.