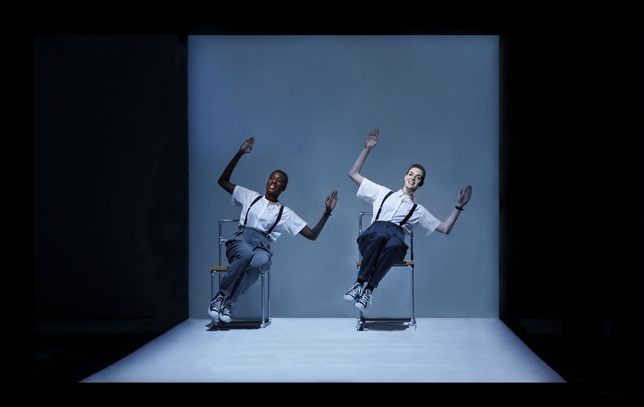 "Einstein on the Beach" is that rare expression of avant-garde rebellion that improves with polish. Since its 1976 premiere in Avignon, France, this immense and baffling "opera," staged by Robert Wilson with music by Philip Glass and choreography by Lucinda Childs, has steadily cleansed itself of its more homespun elements, fulfilling more and more its reputation as a highbrow extravaganza. In 1984, Childs' professional dance company and the Philip Glass Ensemble replaced the all-singing and all-dancing cast of the original. Subsequent revivals (1992, 2012) have exploited improved stage technology, and now Wilson and Childs, who have always performed in the piece, are leaving their stage roles to younger cast members. One might think that a prettier, cleaner "Einstein" would drain the fire from its already chill spectacle, but what surprises most is its abundance of personality, vitality, and innocence.
If you're reading this to find out what "Einstein on the Beach" is "about," you're probably among the uninitiated. The show is a four-and-a-half-hour Rorschach blot. Following John Cage's legacy of freeing the spectator from the burden of interpreting a work of art "correctly," Wilson and his collaborators turn the theatrical experience inside out. Rather than letting an onstage plot dictate the contents of your imagination, "Einstein" offers a plethora of sounds and images and wonders what you have to say about them. You even choose when to take intermission.
Picture the lovechild of Wagner and a calculator to get a sense of the proceedings. To the soundtrack of Glass' repetitive, staccato score, "Einstein" offers glimpses of a technological dreamland, from trains and planes to swirling digital light effects. Sometimes these sequences are replaced by warm dances on an open field and at other times by a courtroom that operates so slowly and idiosyncratically that its participants look like ghosts. Einstein appears as a violinist (the impressive Jennifer Koh at the performance I saw) who fiddles deliriously, as though conjuring the onstage landscape.
The opera's broad scope and meticulous staging has led some critics to call the work at best apolitical and at worst a corporatist wet dream, distinguished from Cirque du Soleil by reputation, not form. But the show's stricture turns not only dancers, singers, and actors but also musicians, stagehands, and even set pieces into virtuosos who do not recede into the spectacle but dare us to admire their individual craftsmanship. Caitlin Scranton's walk across the stage, repeated 50 times in succession, is so captivating that I nearly missed the approach of a giant locomotive from stage left. Helga Davis, who along with Kate Moran plays one of the evening's recurring spirit guides, brings a magisterial authority to her most thankless tasks, while Moran wrings glamour from a monologue about a supermarket.
Andrew Sterman's stirring saxophone solo in the final act captures, for me, the secret spirit of the event: From under a cloud of war, technological chaos, and bureaucratic metastasis comes the sound of life and a vision of persistent optimism. Which is as avant-garde as anyone could ask for.
Presented by Brooklyn Academy of Music as part of the Next Wave Festival at the BAM Howard Gilman Opera House, 30 Lafayette Ave, Brooklyn, N.Y. Sept. 15–23. (718) 636-4100 or www.bam.org. Casting by Zoe E. Rotter and Lisa Bielawa.
Critic's Score: A+