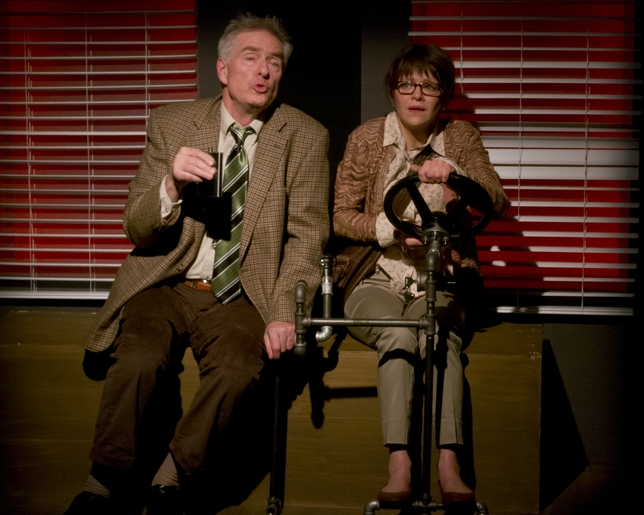 "I admire people who do things," says Louise Finch early on in Elisabeth Karlin's entertaining dramedy "Bodega Bay." "I don't do anything." As played by Susan Louise O'Connor, Louise is a woman so mousy and self-effacing that she's all but invisible. "I guess you want me to leave," she says to another character at one point. "No, just go," comes the response. It's a funny-sad vaudevillian bit that might have come from "Waiting for Godot."
Louise works in a nothing job on Staten Island and has seldom in her life ventured far from home. But when she needs to raise some cash to help put her exasperating meth-addicted brother, Scottie (Brian McManamon), into a rehab facility, she finds herself embarking on a cross-country road trip in search of the mother who abandoned Scottie and her when they were children. Once in motion she begins to find glimpses of her unrealized self.
Elisabeth Karlin has fashioned a smart play on the theme of seeing and being seen. She's also written a fairly effective and involving detective story, with the audience following Louise in her attempts to discover the truth about her mother. Along the journey Louise meets an assortment of oddball characters, played by the other five actors in the cast. It's to the credit of these players—and to director Sturgis Warner—that a story playing out across an entire continent doesn't feel at all cramped, even though it's performed in a theater smaller than many a studio apartment.
O'Connor does a fine job playing a woman whose comfort zone extends not far beyond her own elbows. She has Louise smile an almost omnipresent nervous smile, an expression hiding fear, sadness, and anything else disconcerting. When Louise gets some attention from an acrophobic detective (the excellent Gerardo Rodriguez), O'Connor has her flinch repeatedly under his gaze.
The supporting actors for the most part do well with their multiple roles. A few characterizations—such as a Midwestern couple who might be described as "fundamentalist agnostics" (McManamon and Nancy Rodriguez)— veer a bit too far in the direction of "Saturday Night Live" caricature. Nancy Rodriguez, however, does great work as Louise's self-involved co-worker, who dismisses Louise as a loser early on but who comes to live vicariously through her upon learning of her adventures on the road. I also enjoyed Peter Brouwer's funny, nicely modulated turn as a college math teacher on an alcohol-induced spree. Deserving special mention is Rae C Wright, who confidently portrays five distinct characters, ranging from a jaded and emotionally needy barfly to a serene, matriarchal patrician.
"Bodega Bay" has a few slow moments, especially in the first act. Some of the scenes seem a bit overstuffed with verbiage and would probably thrive better with some judicious pruning. But once Louise begins her westward trek, and the mystery involving the whereabouts of her mother begins casting noirish shadows everywhere, the play pulls you in quickly.
Whoever thought riding shotgun with a mouse could make for such a lively trip?
Presented by and at Abingdon Theatre Company, 312 W. 36th St., NYC. Feb. 3–17. (212) 352-3101, (866) 811-4111, (212) 868-2055, www.theatermania.com, or www.abingdontheatre.org. Casting by Carol Hanzel Casting.
Critic's Score: B+