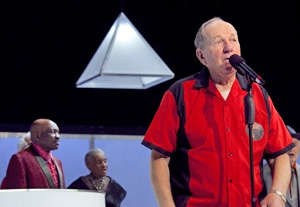 Maybe it's not so surprising that the Young@Heart Chorus' "End of the Road" could make you laugh or cry. But it can also make a full crowd dance.
Formed in an elderly housing project in Northampton, Mass., in 1982, the chorus features 28 singers, whose ages range from mid-70s to early 90s. They have gained fame in recent years through a 2008 documentary bearing their name and international tours, where they have brought their signature twist to classic and current songs.
Directed by Roy Faudree and chorus director Bob Cilman (also impressive and a lot of fun on the harmonica), the show includes music by the Pixies, Bruce Springsteen, Wilco, Boyz II Men (whose "End of the Road" provides the title), and many more. Most of the songs feature soloists from the choir, with some of the voices strong and soulful, others delicate as lace. Some almost speak their lyrics. A few show off their footwork, to some of the most fervent applause at Sunday's performance.
As they sing, the choristers walk through a revolving door inside a clear pyramid structure designed by Wim Van de Cappelle. They often gather around a piano or microphones and appear to be socializing, but their bond is apparent throughout. With musical direction by Ken Maiuri, who plays piano, bass, ukulele, and autoharp, the songs vary in range and tone and build upon one another enough to give the performance considerable shape and direction. A few offer religious messages, some are lighthearted, some are sad, with many a bit of both in context, like the Magnetic Fields' "Too Drunk to Dream." Especially moving are the songs about lonely nights and missed loved ones. But most memorable would have to be Bon Jovi's "It's My Life," here a bold, impassioned declaration of independence.
Young@Heart's first American theatrical performance, the production is commissioned by the Manchester International Festival, St. Ann's Warehouse, Les Ballets C de la B (Ghent), Rotterdamse Schouwburg, and UCLA Live (Los Angeles).
Presented by St. Ann's Warehouse, the Manchester International Festival, Young@Heart, and No Theater at St. Ann's Warehouse, 38 Water St., Brooklyn, NYC. April 25–May 1. Tue.–Fri., 8 p.m.; Sat., 2 and 8 p.m. (212) 352-3101, (866) 811-4111, www.theatermania.com, or www.stannswarehouse.org.