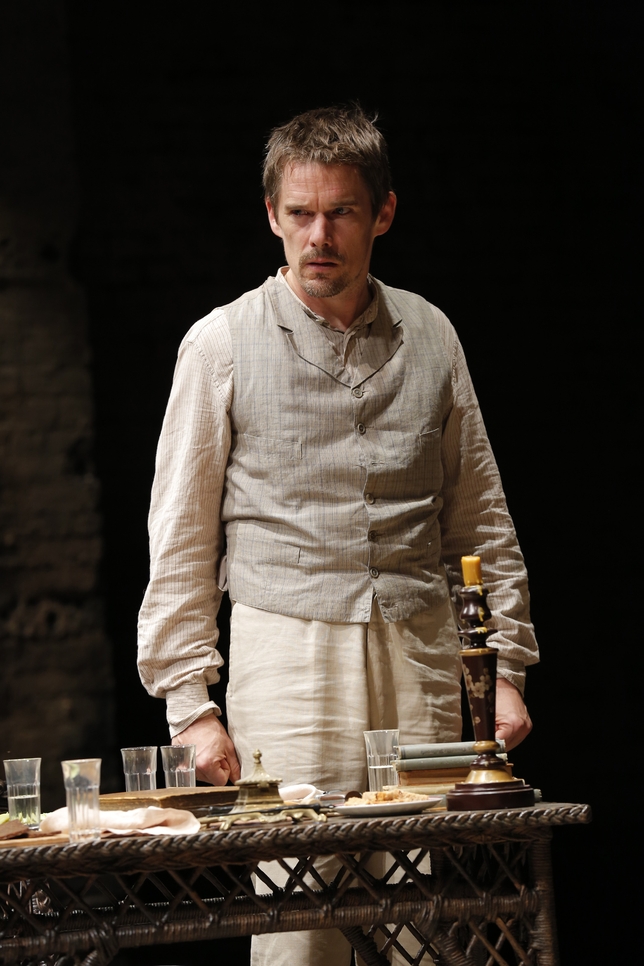 "Ivanov," Anton Chekhov's first produced play, can be hard to love, with its maddening titular protagonist in the throes of depression and the discursive, repetitive ways in which the characters speak. Nevertheless, it provides plenty of insight into the formation of one the world's greatest playwrights, and in a production as good as director Austin Pendleton's at Classic Stage Company, it wields considerable power.
Set on two estates in central Russia during the 1880s, "Ivanov" is the story of Nikolai Alekseevich Ivanov, a government official in the provincial office of peasant affairs whose passage into middle age may have triggered the crippling depression that afflicts him. There are other possible reasons, however. Ivanov is in debt to the grasping Zinaida, wife of his neighbor Lebedev, the president of a local district council; Ivanov's coffers are further strained by his haughty, caustic uncle, Count Shabelsky, who has been reduced to poverty and lives with him. Worst of all, Ivanov's wife, Anna Petrovna, a Jew who has been shunned by her family for marrying outside her faith, is dying of tuberculosis, something her doctor, the rigidly moral and judgmental Lvov, and her husband haven't told her. Possible solutions to Ivanov's woes include the get-rich-quick schemes of his coarse estate manager, Borkin, a distant relative, but Ivanov is skeptical. There's also the wealthy young widow Babakina, who is visiting the Lebedevs and displays interest in becoming a countess. In this case, Shabelsky is dubious. Most alluringly, the Lebedev's 20-year-old daughter, Sasha, has fallen in love with Ivanov and longs to rescue him. That temptation leads eventually to ruin.
Chekhov called his plays comedies, and Pendleton orchestrates a satisfying balance of drama and humor. In the title role, Ethan Hawke finds infinite shadings in Ivanov's depressive rants and keeps the character active despite his wallowing and indecision. Hawke delivers Ivanov's bleak wit with precision and makes his frustration with himself particularly palpable and touching. The play is often referred to as the Russian "Hamlet," a character Ivanov references sarcastically, and if Chekhov's work isn't the equal of Shakespeare's, the title role is just as big a challenge, one that Hawke triumphantly meets.
The production is filled with fine performances. Joely Richardson is a poised and proud Anna Petrovna, especially memorable when Anna turns on her husband. Juliet Rylance mixes reticence and passion to potent effect as Sasha. Pendleton, who stepped in when Louis Zorich sustained an injury, is terrific as Lebedev, whether being amusingly garrulous with friends or losing his temper in frustration at his domineering wife and "modern" daughter. George Morfogen's count, all popping eyes, is a study in effeminate disdain. Glenn Fitzgerald's manic, manly Borkin delivers a welcome shot of energy whenever he arrives. Roberta Maxwell's Zinaida glares with gusto; Jonathan Marc Sherman's Lvov is the last word in implacable, self-righteous cluelessness; and Stephanie Janssen's Babakina is an entertaining combo of haughtiness and neediness.
When two characters started discussing the relative merits of herring and cucumbers as delicacies, I confess my eyes rolled in exasperation. But stick with "Ivanov." It pays dividends.
Presented by and at Classic Stage Company, 136 E. 13th St., NYC. Nov. 11–Dec. 9. (212) 352-3101, (866) 811-4111, www.theatermania.com, or www.classicstage.org. Casting by Calleri Casting.
Critic's Score: A-